Summer is coming to an end and I'm feeling run down and exhausted. I don't know if I'm paying for the week long vacation I took with the kids up at the cottage or overwhelmed with catching up after our holiday, but I'm tired!
When I get tired, I get dark circles under my eyes, a look that I really cannot stand. I wear very little makeup in fact most days I wear none. But on mornings when I wake up with dark circles under my eyes, there is a definite need for dark circle remover!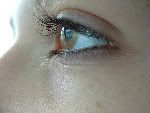 I know that the best solution to my dark circles is to get more sleep, but that is easier said than done! You see, night time is "me" time when I catch up on things that couldn't get done during the day. During the school year, I come downstairs from tucking the kids into bed, make a school lunch, tidy the kitchen, put a load of laundry on and then it's time to relax. I often get so caught up in computer time or watching tv that I just don't want to go to bed early, even though I can feel my eyes drooping and often I can barely concentrate. This is the "me" time that I crave and need in order to stay sane.
Does anyone else have trouble keeping their eyes looking awake and without bags or dark circles? Do you have any tricks you can share? I'd love to hear them!
Feel free to check out BeautedeParis.pr for more beauty products!
---
I am participating in a blogger campaign by Bucks2Blog and was compensated. Opinions expressed belong to Multi-Testing Mommy and are NOT influenced in any way.