Strawberries are in season and this year, they are really yummy! It must be the cooler weather we have been having here in Ontario.
Yesterday, I took the kids strawberry picking. I gave both kids a small strawberry basket, gave them a short picking lesson and off they went. Even my 2.5 year old picked wonderful, red juicy ones.
I've stored my strawberries in my new Glass Rubbermaid containers (unwashed, in layers in between paper towels) – a review will be coming shortly on these wonderful containers (along with a giveaway!) and now, we're using the strawberries up.
Here is a yummy recipe for Strawberry Oatmeal Muffins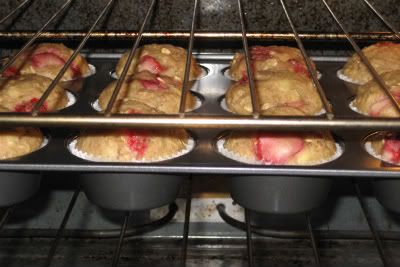 Had to take the photo while they baked so that when they came out the kiddies didn't complain that they had to wait any longer to have one! Haha!
Ingredients
1 cup flour
2 tsp baking powder
1/2 tsp cinnamon
3/4 cup oats
1/2 cup brown sugar (I put between 1/3 and 1/2 cup)
1 egg
1 cup milk
3 Tbsp butter, melted (this is slightly less than 1/4 cup–measure the butter, then melt)
1 banana mashed (this is optional – if you add banana, you can get away with 2 Tbsp of butter!)
1 cup chopped fresh strawberries
Directions
Mix dry ingredients together in a mixing bowl.
Mix wet ingredients together in another mixing bowl.
Add wet to dry and stir together just until moistened.
Fold in strawberries just until mixed in.
Place a sliced strawberry on top of muffin for a festive decoration.
Fill muffin cups and bake at 375 degrees for approximately 20 minutes or until toothpick inserted comes out clean.
---