I would like to introduce to you another cleaning without chemicals alternative for you called Norwex!
The Norwex Mission is to improve quality of life by radically reducing the use of chemicals in personal care and cleaning.
Now, you do have to have an open mind and some trust, but after talking with Mandy at length about the Norwex products and after using them, I do have confidence in how well they work!
I received an Earth Day Cleaning Package that included:
1 envirocloth
1 polishing cloth
1 dusting mitt
And let me tell you, these aren't just any cloths and mitts – they are top dog quality! They really are! I have purchased many microfibre cloths over the years. I have bought them from the dollar store, the grocery store and even some from Fabricland. Nothing compares to these Norwex cloths. Absolutely NOTHING! It must be the quality of them that makes them the step above all the rest. As well as the fact that they are antibacterial, killing the germies that get trapped in that top quality fibre!
I am a bit of a germaphobe. I get really grossed out by germs. I have my cleaning routines that I stick to, but I also have been trying to get over those and move more towards a greener routine that santizes and cleans to my satisfaction. I think I might have finally found it! When Mandy told me that these cloths have been tested in hospitals and have wiped up surfaces with all kinds of bodily fluids and just rinsed with water in between, I was so astonished (and pleased!). The tests proved that these cloths work! She also said that you can wipe down your toilet, then wipe your kitchen counter and your counter is clean enough to make a sandwich on it. Seriously. Now, I'm not that hard core, but the fact that these cloths have been tested and proved makes me love them that much more.
The Enviro Cloths come in 4 different colours in order to colour code your rooms for cleaning purposes if you choose to. I will even say here that the cloths wash up beautifully, but they don't require washing too often either.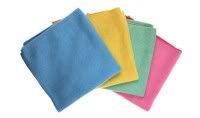 I also LOVE the Dust Mitt! I used to dust with polish/spray – that was at least 10 years ago. Then I moved to micro fibre, but those cloths tended to just push the dust around. Admittedly I moved to a totally environmentally unfriendly form of dusting, but it worked for me and I stuck to it. However, I'm always open to trying new things, so I tried the Norwex Dust Mitt and wow. Just wow! Again, it must be the thickness of the fibres, but I dusted my ENTIRE HOUSE people and all of the dust got trapped in the mitt. My house was fit for the queen (I won't admit that I was dusting during the Royal Wedding – haha!). Seriously. I even put it to the dust and dusted in some places that admittedly I don't tend to all that often and all I did was shake out the mitt at the very end. I don't know where the dust went, but it certainly wasn't smeared on my furniture and it wasn't wiped onto the floors – the dust mitt must have eaten it up is what my kids told me! The only constructive criticism I have for the mitt was that the edges of the mitt are made of a different material so when I was getting into the edges of something, I couldn't use the edge of the mitt, I had to move my hand around inside the mitt to ensure that I dusted with the AMAZING soft fibre, but HELLO, I might admit to actually enjoy dusting when I do it now!

I used the Polish Cloth to clean my mirrors, windows and the stainless steel around my kitchen sink as well as much stainless coffee maker. Yup, it does the polishing job really well! My windows and mirrors turned out all lint and streak free with a beautiful shine (and after the winter – they were dirty! I used the Enviro Cloth to really clean them well first). I haven't used Windex in years, but now I don't even need other cleaners if I don't want either. Just WATER. Nice.

These cloths will not cross contaminate, and will remove not only the grease, grime, dirt and stains from your surfaces, but will also remove the yeast, fungus, mould, bacteria, viruses etc, all those little micro-organisms you don't want on your surfaces will also be removed by the cloth and trapped in the microfibre.
I really like the self-sanitizing feature of these cloths. They are embedded with silver, which is a natural antibacterial agent. The cloths are not going to stink and you are less likely to grab for paper towels if you have these cloths available to use.
The cloths also have a 2 year warranty, but if cared for properly will last upwards of 7-10 years.
UPDATE:  I have fallen so in love with Norwex cleaning and personal care products that I have now decided to become a Norwex Independent Sales Consultant myself.  That is how passionate I am about helping people to save time, money, their health and our planet!
You can order your Norwex cleaning cloths, cleaning products and personal care products here:  www.amandagobatto.norwex.biz or you can contact me for more information on my Contact Page!
---