Congratulations to the winner Annie1!
---
Did you know that about 44% of adults suffer from tooth sensitivity? It's not a disease, but a condition that usually develops over time. Most suffers are between 20 and 50 years old, but that span is growing.
I've had sensitive teeth for the past 10 years or so. The sensitivity has gotten much worse over the past two to the point where I actually consider not eating ice cream or cold treats. I prefer room temperature drinks over cold ones and some mornings if my coffee hits one of my bottom teeth the wrong way, I get a bad tooth shiver (those of you with sensitive teeth will know what I mean by this). However, I will stay away from ice cream, but nothing (and I mean NOTHING) will keep me away from my coffee. SO, I need to find a solution and I have tried many things!
ENTER: SENSODYNE……SENSODYNE is The #1 Recommended brand for sensitive teeth by Dental Professionals and it also won Reader's Digest Most Trusted Brand for 2011.
When you brush with Sensodyne every day, you don't have to compromise your favourite toothpaste benefits like cavity protection and fresh breath. Sensodyne provides clinically proven sensitivity relief while it also:
Fights tartar*
Prevents cavities
Removes plaque with brushing
Helps keep gums clean with brushing
Freshens breath
*with regular brushing
I tried the NEW Sensodyne Iso-Active Multi Action and was SO excited with how it worked! I just LOVE how it foamed in my mouth instead of staying like a regular toothpaste. It was very easy to spread and I felt like it really was doing the job it was supposed to be doing by getting into all of the little cracks and crevices in my mouth to get a good, deep clean. It didn't take much effort to spread the toothpaste around. I also love the taste of the toothpaste.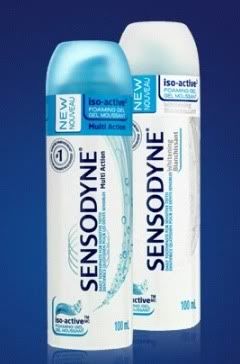 I will be honest, I have tried Sensodyne in the past and had some trouble with it's "gritty" consistency, but that is LONG gone with their new Iso-Active product! You can even read below with regards to some enviromental notes on the product packaging that I am really happy to learn about.
I've been using this new toothpaste for just over a week now, twice a day and it might be me, but I believe that my teeth are much less sensitive. I am enjoying my coffee without any issue, whereas before, once in a while, I would have sensitivity issues. AND, I also had an ice cream cone on the long weekend and although I still bit carefully, I was able to enjoy it without issue which was the first time in a long time.
I also tried a new Sensodyne Comfort Toothbrush specially designed to not irritate your gums. I definitely noticed that it's rounder edges are softer on your gums when brushing. I'm not sure it is my favourite toothbrush, but for people who have VERY sensitive teeth, who's gums are exposing the sensitive parts of their teeth, I have no doubt that these brushes are definitely a really good idea to use.
---
NOTE:
At Wal-mart from May 27 to June 16, consumers can visit www.walmart.ca and sign-up for a free sample of Sensodyne Toothpaste that will be mailed to them.
At Shoppers Drug Mart from June 4 to June 10th and June 18 to June 24th, consumers can get 10X the Optimum points when they spend $10 on Sensodyne products.
---
Here is some interesting information regarding the environmental impact of the Sensodyne products that we received.
Q: Does Sensodyne iso-active contain CFC's?
A: No. Sensodyne iso-active is pressurized within the canister using compressed nitrogen, which is an environmentally friendly propellant.
Q: Can Sensodyne iso-active be recycled?
A: Please contact your local recycling facility to understand recycling capabilities in your area. The packaging components of Sensodyne iso-active are similar to those found in standard shaving gel aerosol canisters.
---
GIVEAWAY DETAILS
WHAT
One lucky reader will win a Sensodyne product pack which includes a line-up of SENSODYNE toothpastes and toothbrushes.
WHO
One lucky reader will be randomly selected.
WHERE
This giveaway is open to Canadian residents only!
WHEN
This giveaway closes on Thursday June 30th, 2011 at 11:59pm EST. Winners will be contacted via email.