Another amazing deal site is launching on Friday May 27th and there's a ROCKIN' party to celebrate the launch!!!
Who wants a chance to win over $1000 in prizes? I do! I do! There's a huge list of sponsors giving away prizes at the party including Trendy Strollers, Weleda, Organically Hatched, Gingerbread Monkeys and more!
Here's a little bit of information about Mom N' Tot Deals…
Not only does Mom N' Tot Deals have Deals that they can send you via a free subscription, but they also have a "Free Shipping" tab on their site where they list a ton of sites that are offering free shipping deals – all CANADIAN free shipping deals of course – I love this!!!
There is an A-Z online store listing of some recommended stores. Who doesn't love the convenience of online shopping these days? There are some excellent online stores listed there that I will definitely be visiting.
For coupon lovers, there is a section with links to current coupon deals that are, again Canadian friendly.
Mom N' Tot Deals is such a well rounded site, they have it all covered for people who are looking for deals! They even have a freebies link where they list sites for Canadians that do freebies.
So, be sure to join Mom N' Tot Deals next Friday for a hoppin' party! Click on the poster below to RSVP: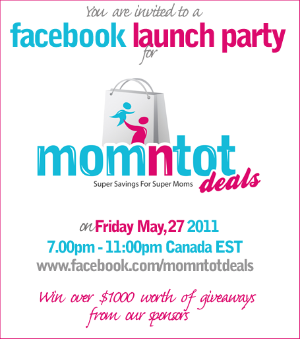 You can follow Mom N' Tot Deals on Twitter @momntotdeals and on Facebook.