Chicken Pot Pie with Biscuit Topping inspired by 5 Dollar Dinners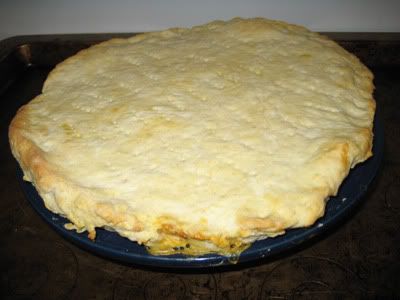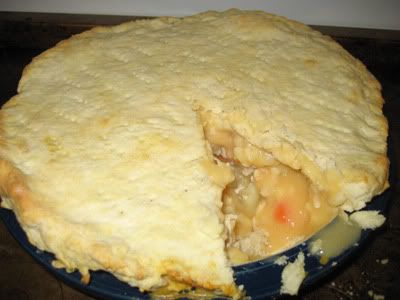 Filling:
1 Tbsp butter
1/4 – 1/2 onion, finely chopped
1 cup cooked, cubed chicken (I like to poach mine to keep it nice and moist)
6 potatoes, peeled and diced
4 carrots, peeled and diced
4 chicken stock cubes
Melt butter in large stock pot. Fry up onion until translucent and transfer small dish. Boil potatoes and carrots in enough water to cover them with chicken stock cubes.
Once cooked, transfer enough carrots, potatoes and some broth into a blender to make 2 cups of liquid and blend until smooth. This makes your 'cream sauce' for your pie filling.
Drain the rest of the potatoes and carrots and add your blender sauce to this carrot/potato mixture.
Biscuit Crust:
3 1/2 cups flour
2 tsp baking powder
2/3 cup butter, cold
1 1/2 cups milk
1/4 cup shredded cheddar cheese
Mix flour and baking powder together in a large bowl. Use a pastry blender and blend in butter until it resembles small pea sized crumbs. Stir in shredded cheddar cheese and add milk, mixing in until combined.
Knead mixture on a floured surface and roll out HALF of the biscuit mixture, pressing it into a lightly greased DEEP DISH pie plate, poking fork holes around the bottom. Bake at 450 degrees for approximately 6-7 minutes.
Pour carrot and potato mixture into pie plate and cover with remaining biscuit crust (having rolled it out into a circle and poking it with fork holes). Make sure to pinch the edges so that your filling doesn't ooze out the sides.
When you bake this, put it on a cookie sheet to allow for spillage!
Bake for 15 minutes or until top crust looks cooked and lightly browned.