This Valentine's Day don't give your loved ones high fructose corn syrup or artificial flavorings. Show them you really care with wholesome certified organic ingredients such as Santa Cruz Organic's line of chocolate syrups.
Honestly, I like the idea of ditching the traditional idea of boxed chocolates and giving these chocolate syrups instead! Unique and fun and did I mention creative? Yum!
Here are some ideas that were shared with me that sound simply heavenly!
Start a cold February morning off right with a steamy mug of mint hot chocolate. Stove heat milk and add in Santa Cruz Organic Mint Chocolate. For an extra touch, add dark chocolate shavings and top with whipped cream. For peppermint mochas, replace half of the milk with fresh coffee.
Drizzle Santa Cruz Organic Raspberry Chocolate sauce over Profiteroles filled with whipped cream, ice cream or pastry cream for an after-dinner indulgence.
Simmer Santa Cruz Organic Chocolate sauce in a saucepan over low heat and dip fresh organic strawberries in it for chocolate dipped strawberries in a jiff. Let cool on wax paper.
Top vanilla ice cream with brownies and Raspberry Chocolate Sauce for a decadent dessert.
Why chose organic? Peace of mind. Santa Cruz Organic is committed to producing the world's finest certified organic products without the extra helping of pesticides. I'm definitely all for this! Healthier chocolate–sign me up! Right now please 🙂
My favourite flavour out of the ones that I sampled was definitely the chocolate mint one. That might be because my palate is biased to anything that has mint flavour to it! Mmmmm….so smooth, creamy, chocolately and a hint of mint, nothing overpowering at all! So yummy! I tried it over ice cream, I made hot minty chocolate to drink and I even put a squirt of it in my morning java (that might have been going overboard, but I had to try it out!).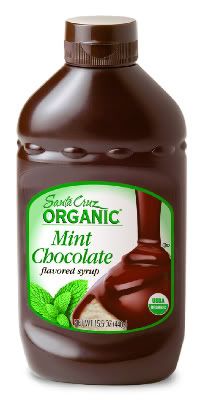 The one and only "negative" or "cautionary" comment that I will make is that on the bottle there are instructions for how to microwave the bottle in order to warm the chocolate sauce. Because the bottle does require refrigeration after opening, the sauce does get rather thick, however, in my opinion, it doesn't get too thick to the point that it requires microwaving inside the plastic bottle! If you want hot/warm sauce, you can squeeze it out of the bottle into something better suited for the microwave. But, of course, I am not passing judgment upon people who wish to follow those instructions either! It's your choice, just be CAREFUL as I'm sure the bottle AND the chocolate would be mighty hot coming out of the microwave after 1 minute of nuking!