I went to the good old Dollar Store and picked up some inexpensive materials, along with some things we had at home, to make a fun activity for the kids with a Valentine's theme!

Little heart shaped boxes that open up filled with different "noise makers". I doubled them up so that they could play a little game of "find the matching sound". I also taped the hearts shut afterwards so that my 2 year old wouldn't take them apart and make a mess of choking hazards. As I would learn later, the mess part wasn't stopped…

I put those heart shaped noise makers into a container and added two fun heart foam squeezers. These are great for building their finger muscles used for fine motor skills like printing, cutting, grasping puzzle pieces, forks, spoons etc.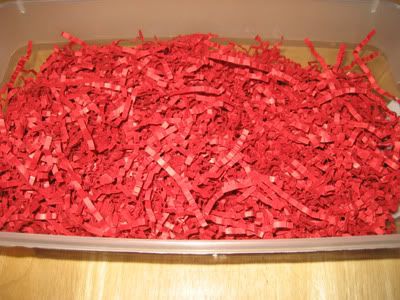 Then, I "hid" the hearts in fun shredded paper–this was the messy part! And here I thought it would just be a fun "hide and seek" activity–what on earth was I thinking? You see, at Halloween, I used the cob web material to do a similar activity, but it can't be thrown around a room! Grant it, this time, the kids had been cooped up in the house for a few days of being sick so they needed to get some "beans" out! Oh boy, did they ever.

The aftermath! (We had a really fun time–Mommy too!)

But, my sweet children also enjoy cleaning up….well, one of them does (the 2 year old!).