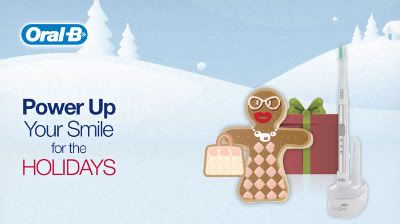 I will admit that this might be a unique gift, but if I received this as a gift, I would LOVE it! Absolutely LOVE it!
This toothbrush is certainly different, but positively different for sure.
It is unlike other power toothbrushes that spin where you are supposed to keep them in place while you move it around your mouth slowly, something that I've never fully been able to get used to. This one, you brush somewhat regularly while it vibrates up to 27000 times per minute to clean your mouth incredibly!
What I was most excited about this brush, other than the fact that it just feels so good and make my teeth feel super duper clean is that it comes with a precision tip that cleans in between your teeth perfectly. You can feel it getting at your gum line while it works too which is so nice. I have very tight spaces between my teeth, so it feels good knowing that on top of floss, of course, there is an additional brush going to work in those difficult to reach spaces.
So, while you are thinking about what to get certain more "difficult" people on your list this year, consider the Oral B Pulsonic. They won't be disappointed!
BRUSH FEATURES:
Sonic technology: With more than 27,000 vibrations per minute to drive them, Pulsonic's bristles clean and promote naturally whiter teeth
Precision bristles: Promote naturally whiter teeth by gently polishing off surface stains
Professional timer: Subtle two-minute timer with 30-second intervals makes it easy to track how long you've been brushing each quadrant of your mouth and helps you reach the dental expert-recommended brushing time
Two customized brushing modes

o Clean: Provides effective plaque removal and cleaning of your teeth o Sensitive: Offers gentle care of your gums and other sensitive areas

Exclusive custom brush head design

o Pulsonic Brush Head: Contours your teeth to provide an effective clean while remaining gentle on teeth and gums o Precision Tip Brush Head: Cleans between teeth in hard-to-reach areas—where stains start—and is also ideal for cleaning around dental work with its Interspace® design

Rechargeable: No need to replace batteries
DETAILS
Includes:
Two brush heads (Oral-B Pulsonic , Oral-B Precision Tip)
Charger with stand
One rechargeable battery