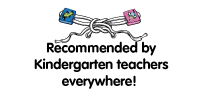 With my daughter starting Junior Kindergarten, I was super excited when we received a pair of Tie Buddies to test out! She doesn't wear lace up shoes yet, but she soon will and I figured we would start to learn now.
Much to my chagrin, my daughter has NO interest in learning how. Why learn how to tie shoes when she can wear velcro ones that are super easy, right?! Kids can be lazy little things sometimes 🙂
Anyhow, although I cannot specifically say how these little inventions worked for us, I will say that I think they are an absolutely brilliant idea!
Think back to when you were little, trying to figure out how to tie your shoe laces? What was the most frustrating part? Sure, it was the fact that the loops got all mixed up and you couldn't keep track of which one was which.
Tie Buddies solve that problem, all the while making learning how to tie your shoes fun! You can make up little stories involving the images on the Tie Buddies that will help your child remember each step.
I definitely think that this invention was a much needed one!