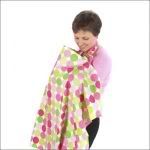 There has been a lot of coverage in the media lately regarding Moms breastfeeding in public. Personally, I have never had a problem with breastfeeding in public. I have had a few compliments for doing it and a few people try to provide not so subtly provide me with advice by telling me where the nursing centers are located.
I am proud to breastfeed and I am confident about breastfeeding in public. I will feed my child where ever I have to and if someone has an issue with it, that is their problem. I do not feel like I should have to disappear into a washroom somewhere or necessarily walk out of my way to a nursing center in order to feed my child.
Having said that, I don't like feeling super exposed, especially in the early weeks and months of breastfeeding when latching can be a bit difficult and breastfeeding is not so subtle. I have really appreciated having my Tot-to-go nursing cover. Not only does it help me cover up while nursing, but it also allows me to do it in style.
My favourite feature is the open neckline that is rigid yet flexible, allowing me to see my infant as he latches and feeds. It also provides some much needed air flow as it can get quite hot nursing under a canopy. I have used other nursing covers and I have to say that the Tot-to-go one provides the most coverage allowing for the most discrete nursing experience.