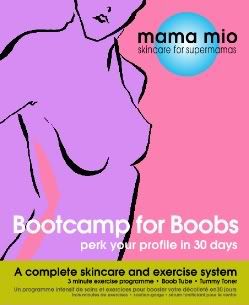 I received Boot Camp for Boobs from Mama Mio just in time to take care of my body after giving birth to my son. All of us Moms painfully know exactly what happens to our boobs after pregnancy. After my second pregnancy, they are sagging even more than before.
I have been using the Tummy Toner and the Boob Tube for four weeks now. Admittedly, I haven't been doing the exercises, but I do plan to start in the near future. The lotions made by Mama Mio are purely luxurious.
Both lotions come in easy to use pumps. The Boob Tube smells incredible and goes on smoothly. I can feel my skin saying thank you from the moment I put it on in the morning.
The Tummy Toner is non greasy and soaks right into my skin leaving it noticeably softer from the moment it goes on. I am addicted to the stuff!
What really impressed me about the Mama Mio product line is that it is Paraben Free, Petrolatum Free, Sodium Laureth and Sodium Laurel Sulphate Free, Xenoestrogen and Phtalates Free, Colourant and Synthetic Fragrance Free. This makes me feel good about using while nursing and if I were pregnant.