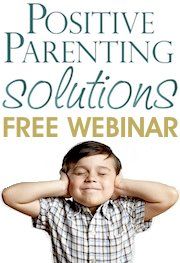 One month ago, I attended a 1 hour parenting webinar with Amy McCready that has seriously changed my (and my family's) life! I am not kidding! If you'd like the opportunity (I strongly suggest it!) to attend a webinar that will provide you with practical tips that you can walk away with in just one hour, you should sign up.
In one hour, I was inspired to work on how I was parenting my children as well as how I was dealing with their misbehaviours.
When my daughter was born, I was a very patient Mom. There was nothing that she could do that would make me yell. Ever. My son was born and somewhere along the line, I lost that person that I was. I will admit that my patience levels may still be higher than some, but I lose it a lot faster and I have been known to yell or raise my voice at my children. It doesn't feel good; not for them or me. It is a lose/lose situation and I know that.
Amy's one hour webinar taught me some amazing and simple tricks and tips for how to not yell as well as not having to remind my children to do things over and over again. I haven't been nagging anywhere near as much as I was a month ago!
Parenting is a process. We are always learning and nothing is magic over night.
If there was such thing as a Parenting Fairy Godmother, I would give that title to Amy McCready!
A month ago, it felt like she waved her magic wand over me and everything started to fall into place.
I believe in Amy, her tips and tricks AND her program so much that I felt inspired and compelled to share it all with you!
Next Tuesday, November 27th at 9pm EST is your turn to be inspired like I was!
It takes one hour out of your life, but this is an hour that could change your life as a parent forever and trust me, you will appreciate it more than you will ever know!
You know me by now, don't you? I only share things that I am passionate about? Things that I believe in, feel strongly about or trust.
Well, I trust Amy. I believe in her ability to help us all be better parents. I believe in the power of change!
If there are any aspects of parenting that you are finding challenging right now, whether it be getting your kids to listen, sibling rivalry or anything else, Amy's tips and tricks can help you! They can be applied to children as young as 2 and as old as teens.
I can't recommend this Parenting Webinar enough!!!
Webinar seating will be limited so learn more and RSVP now!
SAVE YOUR SPOT! REGISTER NOW!
RSVP today
and then kick back and learn from the comfort of your home.
About Amy McCready:
Parenting expert Amy McCready is the Founder of Positive Parenting Solutions and a "recovering yeller." She is a champion of positive parenting techniques for happier families and well-behaved kids. Amy reaches a worldwide audience with her Positive Parenting Solutions Online course and is a frequent guest on the TODAY Show and has also appeared on Rachael Ray, CNN, Fox & Friends, MSNBC, and elsewhere. In her most important role, she is mom to two teenage boys.
---
Multi-Testing Mommy is a sponsor of this FREE event. Opinions expressed belong to Multi-Testing Mommy and are NOT influenced in any way. See MTM's Disclosure for more details.