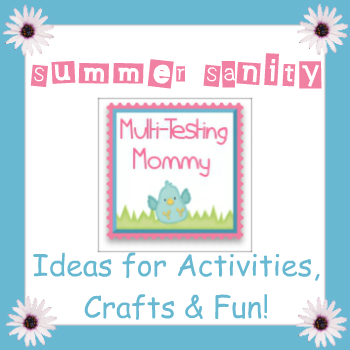 This post is a part of
Summer Sanity
, a series of posts for parents to gain ideas and inspiration for how to keep their children happy, active, educated and having fun during the long summer months.
---
Summer is a time for fun, outdoor adventures, spending time with your family and friends and more. Some of the outings and adventures that a family can take together can be rather pricey.
Children don't need extravagent, over priced outings to have fun and to make memories! Sometimes, the simplest activities and outings can be the most fun.

Splash pads
Check your local town or city website for a listing of your local splash pads. They are free and a great way to cool down on a hot summer day. Children are entertained with splash pads for hours. Remember hats, sunscreen and lots of water to drink on these outdoor adventures. As well, it is a good idea to wear some sort of water shoe as rocks and other debris on the ground can become quite the toe hazard for children.
Library
The library is one of our favourite places to hang out on a hot summer day. It is free, air conditioned and often there are very reasonably priced childrens' activities planned throughout the summer.
Farmer's Market
You don't have to buy a lot of food at your local Farmer's Market in order to have an experience and enjoy yourselves, although the local farmers will certainly appreciate it if you did! Many Farmer's Markets have live entertainment throughout the summer and there is so much "on the spot" education that can happen with learning about all of the produce available. You could provide your children with clipboards and a pencil and have them make a list of all of the healthy food that they see or are willing to try.
Take a Hike
Children love to hike! Hiking can be quite the adventure for them. You can make it into a Scavenger Hunt or simply bring along child friendly cameras and let them take photos of the nature around them.
Provincial Park
Why not check out a Provincial Park for the day. A daily vehicle permit can cost between $10.75 and $19.25, which is a very reasonable price for a day jam packed full of fun! Many parks have beaches, playgrounds, lakes, boat rentals and some even have pools. As well, be sure to check out the park's calendar of events as many parks have special events that are wonderful for the children throughout the summer.
Picnic
The beauty of a picnic is you can set one up anywhere! You can stay close to home and have one right in your backyard or your front porch or you can venture a little further to your local park or conservation area. Although picnics take a lot of planning and a bit of time preparing, they can be so much fun and can entertain your children for a good part of the day. Bring along a few balls, a frisbee and a deck of cards and the children will be entertained when they are not eating. You could even try out a messy Science Experiment or two!