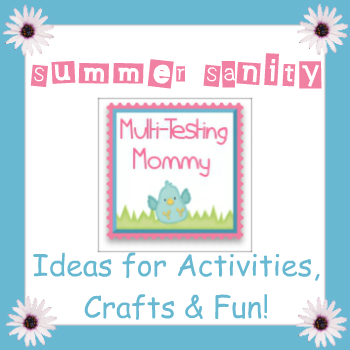 This Guest Post is a part of
Summer Sanity
, a series of posts for parents to gain ideas and inspiration for how to keep their children happy, active, educated and having fun during the long summer months.
---
Today's Activity: Mom's Cooking Camp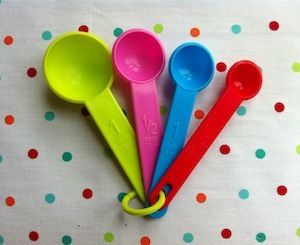 Last year I sent my two daughters to cooking camp. My then 8 year old learned an array of curse words, while my then 10 year old learned how to spread canned frosting on white bread. It cost me $587.60.
This year I'm putting on my own camp. Mom's Cooking Camp. I have four kids ages 11, 9, 6, and 3, and all four will be my guinea pigs, campers.
When I floated this idea to the kids, they were so excited. They immediately made a list of what recipes they wanted to make. Here's what they came up with:
Muffins
Banana bread
Granola bars
Pancakes
Cookies
To make this camp as fun as possible, I thought it best that each camper make each recipe in full. Yes, it means that I will have four times the number of… well, everything, but it will all freeze well, including the cooked pancakes. If each camper is going to get their chef on, I will need a few extra kitchen tools. I'll pick up three sets of measuring spoons, an 8×4 loaf pan, a cookie sheet, and a muffin tray to augment what I already have. It should cost me less than $30.00.
To establish some structure, I made this cheat sheet for the kids and I will laminate it so it will withstand the whole week.
Before We Start…
Tidy and wash counter top
Wash hands
Read the recipe
Check that we have everything on the ingredients list
Preheat oven if needed
Get out all the tools we will need including oven mitts, trivets, and compost bin
Get out all the ingredients we will need
Prepare pans/cookie sheets if needed
After We…
Put all the ingredients back where they belong
Put all bowls and utensils in the sink
Wipe down counters and work areas
Sweep
Load the dishwasher with all dishwasher safe items
Wash, dry and put away all non dishwasher safe items or anything that doesn't fit in the dishwasher
Eat! 🙂
A big part of making this camp a success will be my mindset before I start. Camp is supposed to be fun, so I need to not worry about flour being spilled on the floor, or scooping eggshell bits out of batter, or how long it takes to make a simple recipe. Camp includes campers cleaning up after themselves, so there should be no fear of being left with a kitchen that is a disaster.
Last but not least, every great camp ends with a little gift for the campers. I'm making candy kabobs for my "take-away". They are easy to make and the kids will love them!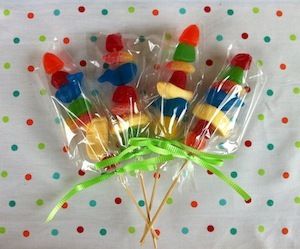 This Guest Post was written and submitted by:
Kelly Williams
Kelly is a mother of four (i.e. short order cook, taxi driver, house cleaner, homework tutor, personal assistant, household accountant, personal shopper, etc.) She is also a wife, sister, daughter, 2nd degree black belt, volunteer, former technical writer, and amateur artist.
Kelly loves a day on the golf course or reading a good book. She is also a shameless car dancer and will dance anywhere not caring who sees her.
Check out Kelly's musing about personal and parenting lessons she's learned from martial arts at BlackBeltMommy.wordpress.com. You can find samples of her art at FrostedFox.wordpress.com.