I was thinking the other day about what I would bring with me if I could only bring a handful of items (people not included here) to a deserted island. I would have to say that my computer (along with internet access of some sort) of course would be right up there on the list, but so would my Keurig machine with boxes and boxes of K-cups!
My husband gave me my Keurig machine for Valentine's Day. I can't tell you how grateful I am that he did! I just love the ability to brew one cup at a time, to have fresh coffee whenever I want and to be able to select the type of coffee that I want.
I have really enjoyed trying out a large selection of different brands, flavours and intensities of k-cups. I have noticed that my taste buds do tend to lean towards flavoured coffee and dark, smooth roasts.
I have discovered a few online locations to purchases K-cups. One of them that I have found recently is called Home Coffee Solutions. They have two retail locations in the Toronto area as well as an online store.
I love the fact that Home Coffee Solutions offers FREE SHIPPING with orders over $59.99 (with some exceptions!
Home Coffee Solutions has a large variety of K-cups, Tassimo T-Discs, Single Serve Options, Brewers, Accessories and more.
They sent me four different K-cup varieties to try out.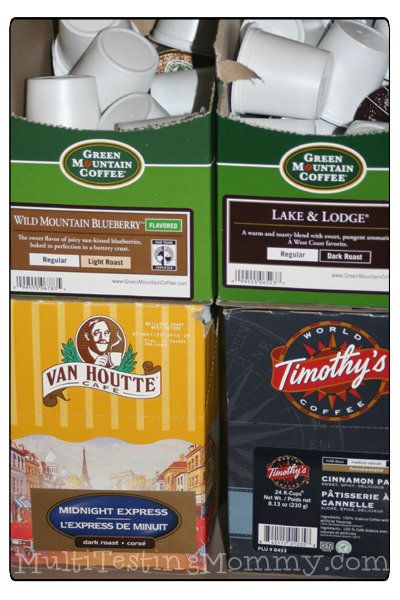 Green Mountain Coffee: Wild Mountain Bluberry Flavoured
Green Mountain Coffee: Lake & Lodge Dark Roast
Van Houtte Cafe Midnight Express Dark Roast
Timothy's Cinnamon Pastry Flavoured
Within hours of receiving the K-cups, I couldn't take the temptation to try out a new kind anymore. I ripped open the
Wild Mountain Bluberry
Flavoured coffee and brewed myself a cup.
It was after dinner and although the kitchen still had the yummy smell of our meal, within seconds our kicthen was literally filled with the sweet smell of blueberries. The smell could have easily been mistaken with the smell of blueberry pie! Yum!
I wasn't sure what to expect with a coffee that had a taste of blueberry, but I was very pleasantly surprised! It has a slightly sweet, berry undertone and was a nice light and very enjoyable drink. I immediately filled up one of my drawers in my K-cup holder with a row of this yummy new coffee.
My next favourite one was the Lake & Lodge by Green Mountain. Although my husband found it on the weaker side for a dark roast (but he drinks espresso and sometimes finds it weak!), I absolutely loved it! It has the dark undertone to it with a smoothness that makes it perfect for my palate! When I am in the mood for a non-flavoured coffee, I will definitely be enjoying this one. As a side note, I also love the name of this one.
The Midnight Express by Van Houtte was a good coffee. I would definitely offer it up as a choice to serve to guests, but I found that it wasn't as flavourful as some of the other dark roasts that I have tried.
As for the Cinnamon Pastry by Timothy's, my neighbour absolutely LOVES this flavour of coffee. We are constantly sharing all of the new K-cup brands, flavours and varieties that we discover and this one is one of her favourites. It definitely does fill the room with a delicious morning baked treat aroma. The coffee itself, for some reason, is the only flavoured coffee that I wouldn't ask for if a variety were put in front of me. It could be because I'm not a HUGE fan of cinnamon in general, but Timothy's sure does make a large variety of delicious flavoured coffees that I enjoy on a regular basis.
Would you like the opportunity to win a Keurig B40 Single Cup Coffee Maker (approximate retail value of $130)?! Enter below to win!

GIVEAWAY is NOW CLOSED!
Prize: Keurig B40 Single Cup Coffee Maker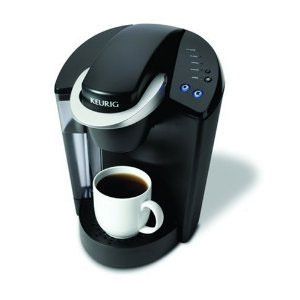 AND THE WINNER IS…
results powered by Random.org
Entry #6995 Theresa A.
---
Pin It
Check out Multi-Testing Mommy's Current Giveaways

---
Multi-Testing Mommy was provided with promotional materials free of charge, by the manufacturer or a representing PR agency, in the hopes that it would be mentioned on this blog. Opinions expressed belong to Multi-Testing Mommy and are NOT influenced in any way. See MTM's Disclosure for more details.