A couple of weeks ago, my family and I had the amazing opportunity to test drive a Ford Flex!

I would like to share my overall thoughts on the Ford Flex. We drove the Ford Flex Limited AWD. Included in this vehicle were:
19 inch painted aluminium wheels
Heated folding power exterior mirrors
Sony Branded Premium Audio System
Adjustable pedals with memory
First row perforated heated leather seats with memory
power lift gate
BLIS with cross traffic alert
Intelligent Access with push button start
rearview camera
reverse sensing system
remote start
rain sensing wipers
fog lamps
SYNC with MyFordTouch
Sirius Satellite XM Radio
First Row power recline and power lumbar seats
dual zone temperature control
easy fuel capless fuelling
auto fold second row
3.5 L Duratec V6 engine
6 speed, select shift automatic transmission
electronic power assisted steering
Advance Trac with Roll Stability Control

AND MORE!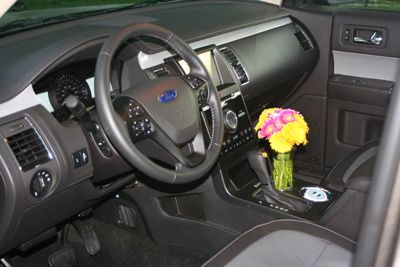 To understand the reason behind the flowers, feel free to read this post.
Honestly, this vehicle had so many bells and whistles, it would have taken more than one week to try them all out and to get comfortable with them. I loved the majority of the many unique features of the Flex, but I did wish that there was a way to turn all of them off with the touch of a button and to add them in one at a time.
Cars are such a personal preference. For women, maybe it could be related to buying a bathing suit – yes, the looks are super important, but the fit is just as important! For men, I'm not sure what it could be compared to, women maybe?! (LOL)
Everyone has different comfort needs because everyone's body is different, everyone has different accessory preferences because some people like cars as simple as they come (cars that just take them from point A to point B) and some people love all of the bells and whistles (because they love gadgets and appreciate the added technology).
What one person loves, another person may dislike. This is why test driving or better yet, renting a desired vehicle prior to purchase is so important!
My husband and I couldn't be any different than one another when it comes to our car preferences, which would be fine because we are both fortunate enough to drive our own car. However, the problem comes in when we take road trips (more than 15 minutes in the car) because my husband gets car sick VERY easily when he isn't driving and my vehicle is typically the larger vehicle to fit the whole family and our luggage. This means that we must compromise when selecting a family vehicle.
Over all I absolutely loved driving and riding in the Ford Flex. It is a very spacious and roomy vehicle with very comfortable seats (that could be heated or cooled according to your preference and the season). The power seat adjustments and power mirror controls allow you to tailor your comfort to be perfect for your body and preferences.
As I mentioned in another post, my favourite features of the Ford vehicle were the Blind Spot Information System (BLIS), the Active Park Assist, the Rear Sensing System and the Visual Park Aid.
The most impressive feature was definitely the Active Park Assist. I was quite hesitant to try it out, but I knew that I couldn't "test drive" the Flex without giving it a shot. What I loved about it was although the vehicle was making the decisions as far as turning the steering wheel to parallel park the vehicle, I was still in complete control of the speed at which it parked. When I wasn't 100% sure, I simply touched the brake and the vehicle stopped and then I inched into the parking spot. It parked beautifully like a well oiled machine! I was super impressed. After the parking job was complete, my husband piped up saying, "now that is impressive" and my daughter said, "Well, now we HAVE to own a Ford Flex"!
The engine was very peppy and the drive was smooth on our 4 hour road trip. Although we weren't allowed to eat or drink anything in the vehicle, I did find that the cup holders were in a perfect location for all passengers. You wouldn't think this would be a big deal, but in our current vehicle, there are no cup holders for the middle row and the driver cup holders are rather inconvenient.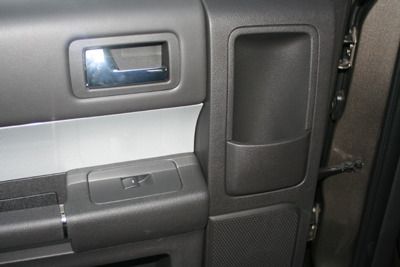 The one downside to the Ford Flex for me is that while the size of the vehicle is absolutely perfect for a family with children (or pets), we really missed our sliding doors on our current vehicle. While our children are still young, regular car doors are difficult for them to open and they make me nervous that they won't be able to control the door so I ended up parking at the back of every parking lot, especially because this Flex wasn't ours. If the Flex had sliding doors, it would hands down be one of my dream vehicle right now! I'm not saying that I wouldn't choose to own one because of this, but I would miss my current sliding door option A LOT!
I also wish that some of the buttons could be disabled for safety sake when young children are in the vehicle. The buttons that control the "auto fold second row" feature can be somewhat dangerous for children, in my opinion. Where the buttons were located was exactly where my son grabbed onto the frame of the car while he got himself out of the back seat. The second row seats close rather abruptly and with some serious force which could potentially harm a child. This auto fold feature is wonderful and convenient, it is just the location of the buttons (or the lack of control to deactivate them) that worried me, as a Mom. Knowing that this was the case, we simply made a rule in the car that no one got out of their seats until an adult was helping them and children do not touch any buttons in the car. If we owned this vehicle, these rules would be in place and it would simply become routine for us.

During my week long loan, I also had the opportunity to experience the amazing Ford Customer Service! One of the seat belts retracted so far that it locked, I truly believe this was a fluke. However, we took it into the dealer for them to look at and I was VERY impressed and pleased with the amazing customer service! The service was fast and friendly!
The Flex got a lot of attention during our week long loan. Many people approached us to talk about the vehicle, it is an impressive vehicle to look at and to talk about! Right down to the wheels: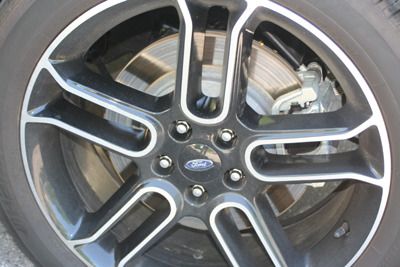 To read more of my thoughts on the Ford Flex go here:
My Journey with Ford Canada
The Excitement
The Beauty of the Ford Flex
---
Pin It
Check out Multi-Testing Mommy's Current Giveaways
Find contests for your COUNTRY
---
Multi-Testing Mommy was provided with promotional materials free of charge, by the manufacturer or a representing PR agency, in the hopes that it would be mentioned on this blog. Opinions expressed belong to Multi-Testing Mommy and are NOT influenced in any way. See MTM's Disclosure for more details.