This is a guest post submitted by Egg Farmers of Ontario and Beatrice Bastedo.
Easter long weekend is right around the corner – A holiday, all about having fun with the family, and packed with opportunities for getting crafty with your kids.
Egg Farmers of Ontario want to help you get crafty and give back. They have teamed up with Breakfast for Learning to launch a new online contest called the 'Eggs-Factor.' It's an innovative online egg design contest where you get to let the creativity flow through the mouse and onto the screen.

How does the 'Eggs-Factor' help you and other Canadian Families at the same time? Every one is invited to go online and decorate a virtual egg. For every egg decorated, Egg Farmers of Ontario will donate $1 to Breakfast for Learning. You'll also be entered into the search for Canada's best egg and have the chance of winning one of several prizes.
Breakfast for Learning is the leading national non-profit organization solely dedicated to child nutrition programs in Canada. They know that when a child is well-nourished, they perform better in school and work to ensure that students receive the healthy breakfasts, lunches and snacks they need to succeed.
The "Eggs Factor" contest' can be found at www.eggsfactor.ca, and if designing an online egg gets you in the spring spirit check out the below great tips and ideas for decorating your own eggs at home…the old fashioned way.
Egg decorating has been enjoyed around the world for centuries. Get the Spring spirit flowing in your home with these fun, kid-friendly egg decorating techniques. Our egg-sperts, Egg Farmers of Ontario, have put together this step-by-step guide to help make egg decorating an adventure for the whole family.
Planning your egg-proach
The first step to prepare your egg for decorating is to decide if you will blow out your egg or hard boil it. If you want to keep your egg ornament for years to come, you will need to empty the raw egg. Otherwise, hard boil your egg for a temporary decoration.
Egg-spert Tip: It's recommended that you dye your egg first if you're going to blow it out in order to make submerging the egg in the dye easier.
Dyeing your egg
Decorating eggs is an art form that began centuries ago and usually involved dyeing eggs extravagant colours. Tints of times past were made from fruits, leaves, bark, coffee and roots, but for today's busy households, it's far too time consuming! Luckily, the Egg-sperts at Egg Farmers of Ontario have a simpler way for your family to create colourful eggs.
Step 1: Make sure your work station is protected with newspaper or plastic.
Step 2: In a large heatproof bowl deep enough to submerge your egg completely, mix one teaspoon of vinegar and 20 drops of food colouring (use more to intensify the colour) in one cup of warm water.
Egg-spert Tip: The vinegar makes it easier for the dye to seep into the shell.
Step 3: Submerge eggs for three minutes for light colours and ten minutes or more for deeper shades. Use tongs to handle eggs easily. Let the eggs dry completely for 20 minutes on a drying rack.
Egg-spert Tip: We recommend turning your eggs half way through the drying time to make sure the egg dries completely.
Be the Egg-spert: To make a two-toned egg, dye the whole egg first in a light colour, let dry for 15 minutes, and then submerge half into a darker colour. Or, try using brown eggs to vary shades.
Tie-Dyed Eggs
Use this technique for a psychedelic colour egg-sperience!
Egg-spert Tip: Hard boiled eggs work better for this style because they are less fragile to work with.
Step 1: Over a sink, place one hard-boiled egg in a colander and coat with vinegar.
Step 2: Choose two to three colours maximum. Starting with the lightest colour, drip food colouring on the egg and gently roll in the colander for a few seconds to help spread the colour. Let the colour sit for minimum 30 seconds or more depending on your colour preference.
Step 3: Repeat step two with remaining colours, allowing each to set for minimum 30 seconds.
Egg-spert Tip: To make the eggs extra psychedelic, try wrapping them with two or three elastic bands before dying.
Dyeing – À la Natural
Dyeing eggs naturally is easy but requires all pots on deck as each colour needs its own pot to boil in. Place eggs in a pan and add water until the eggs are covered. Add one teaspoon of vinegar to help the colour seep to the eggs and add your choice of natural dye combinations. Bring the water to a boil, reduce heat and simmer for 15 minutes. Once you are pleased with the colour, remove the egg from the liquid and let dry.
Egg-spert Tip: For a really intense colour, try soaking the egg overnight in the fridge.
Experiment with food stuff such as red onion skins, red cabbage, grape juice, beets, canned blueberries, cherries, turmeric, hibiscus tea, chilli powder or fresh cilantro, and see what surprising colours you create.
Egg-spert Tip: Naturally-coloured eggs won't be glossy but you can rub a touch of cooking oil over the dyed egg to add some shine-time to your creation.
Hollow out your egg
To blow out your egg out follow these steps:
Step 1: Have an adult use a push pin or sharp object to pierce both ends of the egg. Using your sharp object make one hole bigger than the other.
Step 2: Poke a tooth pick through the larger hole to pierce and "stir" the yolk.
Step 3: Hold the egg, larger side down over a bowl, and blow the contents out.
Step 4: Set the egg contents aside and use one these recipes to make a tasty egg-tastic meal: www.eggfarmersofontario.ca
Decorate your egg
Now that your egg is colour-fied, let's get decorating! Here are some simple techniques to try at home with the whole family.
The Basics (easier for peewee artists)
Use odds and ends on hand at home to add some pizazz to your cre-egg-tion! Markers, paint sets, sparkles, ribbons and yarn work perfectly for decorating eggs without too much time, fuss, or money.
Sticker Egging
Stickers are a fun, inexpensive, fuss-free way to decorate eggs. Have several packages of stickers available for kids to choose from.
Instant Disco Egg
Use equal parts glue and water to make diluted craft glue. Take an already dyed egg, apply glue mixture using a paint brush or sponge to half of the egg. Sprinkle superfine glitter over the glue covered half of the egg. Let dry completely. Cover the remaining parts of the egg with glue mixture and cover with the same or different glitter.
Egg-spert Tip: Touch ups can always be made with funky stickers or more glitter. Disco!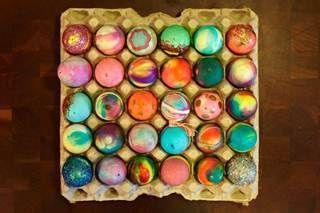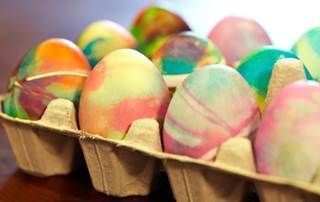 Hope you all have an egg-citing and arty Easter.
---
Pin It
Check out Multi-Testing Mommy's Giveaways
---
Toy Clearance Sale at chapters.indigo.ca!
---
Opinions expressed belong to Multi-Testing Mommy and are NOT influenced in any way. See MTM's Disclosure for more details.