Pink and Green Mama calls her Halloween Shakers "Eye Spy Bottles"–another terrific idea, but we decided to make musical instruments of shakers instead.
The kids love these shakers and they are actually one of their favourite toys to play with right now, believe it or not. Mind you, musical instruments in general are definitely a favourite around here–so take that with a grain of salt! Haha!
Have a Happy Halloween everyone!!! Do you have any special Halloween plans? I'd love to hear about them. I just love Halloween.
Here are our materials all laid out for you. I coloured my own rice using food colouring and rubbing alcohol. If you'd like to know, please feel free to email me! I just collected and bought many small Halloween coloured/themed items that would fit into a bottle and would make noise! Fun! 🙂
Here is the type of bottle that we used. You could use funnels and do a pouring activity for the smaller rice and beans!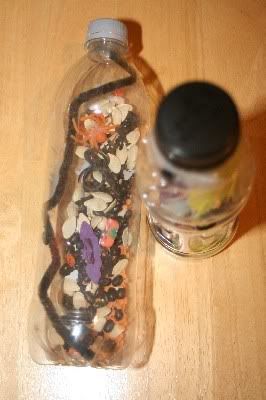 Here are the finished products.
The wide mouthed bottles are great for toddlers to work with because it is easier for their little fingers and less controlled fine motor skills to get the items into their bottles.

---
Check out Multi-Testing Mommy's Giveaways
Toy Clearance Sale at chapters.indigo.ca. Shop now to prepare for the holidays!
---