KOBA ENTERTAINMENT OFFERS PARENTS THE CHANCE TO WIN "THE PLAYDATE OF A LIFETIME" WITH THEIR CHILD'S FAVOURITE CHARACTER FROM THE BACKYARDIGANS OR TOOPY AND BINOO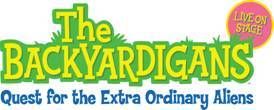 ***
TICKETS FOR BOTH TOURS ARE ON SALE NOW!
***
Koba Entertainment is thrilled to announce its most exciting contest ever! This fall, children's favorites, The Backyardigans and Toopy and Binoo, will be gracing the stages of cities all across Canada. To celebrate, Koba is offering parents a chance to win the Playdate of a Lifetime for their child and 10 of their closest friends. A very special guest of honour – the winner's favourite character from either "The Backyardigans" or "Toopy and Binoo" – will visit the lucky family. Together, they will enjoy an unforgettable time! This out-of-this-world sweepstake is now open; entries can be submitted online at: www.facebook.com/KobaEntertainment.
The opportunity to meet The Backyardigans or Toopy and Binoo does not stop there! Koba will be giving away 75 – yes, seventy-five – meet and greet passes as secondary prizing.
Contest starts on August 17, 2011 at 12:00pm PST and ends November 30th, 2011 at 6:00pm PST. For complete contest details, please visit: www.facebook.com/KobaEntertainment.
Parents won't want to miss the opportunity to see Koba Entertainment's out-of-this-world theatrical productions: The Backyardigans: Quest for the Extra Ordinary Aliens and Toopy and Binoo and the Marshmallow Moon – tickets are on sale now.
For tour details, visit: TheBarckyardigansOnTour.com and ToopyAndBinooOnTour.com.
About Koba Entertainment:
A prominent producer of original family musicals, Koba Entertainment has been captivating audiences throughout the world with celebrated characters from literature, television, and pop culture. Koba Entertainment productions have enchanted people of all ages in more than 165 North American cities, 12 countries and 4 continents. Production credits for young audiences include: Max & Ruby, The Backyardigans, Toopy & Binoo, The Doodlebops, Caillou and Franklin. More information can be found at www.koba-entertainment.com.