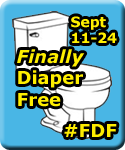 ---
Our Finally Diaper Free Potty Training Event has come to an end. Our Potty Training adventures will continue and so will our stories!
Thank you to all who were a part of the great event – for sharing stories, tips, asking questions and entering giveaways!
And the Winners Are….
Beco Potty (Winner: Tiffany U.)
Little Looster Potty Stool (Winner: Amy M.)
No Cry Potty Training Solution by Elizabeth Pantly (Winner: Diana O.)
Norwex Cleaning Products from @MandyNorwex (Winner: Olivia L.)
Super Undies (Winner: Chris F.)
If you missed the event OR if you would like to go back and read our stories, tips and more, please feel free to visit our Finally Diaper Free Potty Training Event any time!