I'm so glad to have been introduced to Lilla Rose products, especially the Flexi Hair Clip! It truly is the best hair clip that I have ever used AND it looks good too! There is such a wide selection of clips to choose from in a variety of sizes.
I will say that sizing is super important when choosing your Flexi Clip! So go to the Flexi Hair Clip Sizing & Styling page and make sure that you select the appropriate size for your hair type, length and for the style that you like to wear your hair (e.g. pony tail, half up, french twist etc.)
I have just below shoulder length, very fine hair. I chose the extra small clip and I am very happy with my choice. The clip that I reviewed was the multi-cluster:

. Not only is it beautiful and it goes with any outfit, but it holds my hair. It really and truly holds my hair! The only test that it did not withstand was the "lying down in bed for snuggles at bedtime with my rambunctious toddler test". It still stayed in my hair, but my it loosened from my head and needed to be taken out and re-done when I got up. However, I wouldn't expect anything less from a "snuggle" struggle session with my little guy at bed time!
I tried the Extra Small clip in my 5 year old daughter's fine hair and it held up to her bouncing around for an entire day! She loved the fancy, "grown up" clip in her hair and I like the fact that it wasn't ripping her hair in the process.
You can wear your Flexi Clip in a variety of ways:
Pony Tail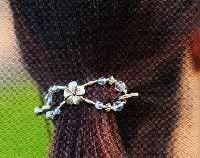 Half Up

In a Twist