Tomorrow is Family Literacy Day!
Family Literacy Day takes place every year on January 27th. It is a day to mark on our calendars where we can celebrate reading and learning together.
One thing that I like to do with my 5 year old is bake. We read the recipes together and whip up muffins, cookies, cakes galore. Literacy is all around us. From the signs on the roads to the signs that tells us what store we are shopping at to the words on the food items that are in our grocery cart. Then at home, we can read the recipes together and talk about the steps to baking in order.
My daughter and I made Anna Olson's yummy Chocolate Chip Cookies. I was inspired to try these out by a post over at Listen to Lena's. As an aside, Listen to Lena is a great site! You should definitely go check her out!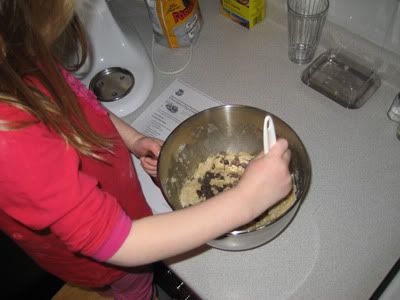 Here are some other ideas for you to do with your kids on Family Literacy Day:
Make meals/snacks related to ABC's (a snack with a food starting with each letter of a child's name or a meal with food beginning all with the same letter or serve ABC crackers and play a game while they eat where they have to name a word that begins with each letter that they eat.
Read a book out loud at breakfast.
Choose your favourite story book and make your day all about that book. Do food, crafts etc. all about that book.
Print off some jokes and make a family favourite joke book.
For younger children, make a family photo book labeled with family member names using a label maker or put 4×6 cardstock in every other side with the name. You could also buy photograph magnet holders for your fridge and label those with family names.
Play a post-it-note label game where you write words on the notes and your kids run around the house putting the labels on the specific items. You can also go on a word/letter hunt where you hide the post-it-notes and your kids have to find them (having them tell you what is on the note when they hand it to you). Kids love this one! Just make sure you count how many you have hidden!
Most importantly, have fun!
If you want more ideas, please feel free to email me! I was a former Kindergarten teacher 🙂