---
As if we don't have enough to do to prepare for the holidays. There's shopping and baking, attending events, and probably hosting events too! If you are like me, you like to keep your house as clean as you can. Does it always stay clean? No, but at least it gets cleaned every week 🙂
Proctor and Gamble is helping to get homes sparkling this holiday season. If you use the following products from P & G, you will be sure to have a clean home in time for the Holidays:
Keeping your sink clean is a must! Using DAWN Plus Baking Soda Alternative Lemon and Citrus dish washing soap is a great way to clean those soiled dishes. I love this fresh scent and the fact that the baking soda helps to eliminate odors. It is specially formulated to clean plastics that retain the smell of food, something that happens with our lunch containers around here!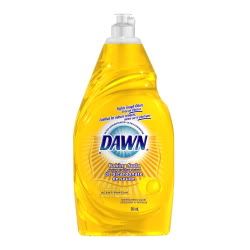 Mr. Clean with Febreze Disinfectant Citrus and Light Powerful Multi-Surface Cleaning Multi-Purpose Cleaner


I really like the light scent of this disinfectant and I also like that it kills bacteria and can be used in many areas of the house from floors to toilets! I don't always like to use harsh chemicals but in my opinion, there is definitely a time and a place.
Swiffer Dusters 360


I have tried many, many different ways of dusting. We have a lot of dark surfaces in our house so dust is definitely my enemy! The Swiffer Dusters have been the most effective form of dusting for me, hands down! They pick up every ounce of dust from all surfaces and are super easy to use.
Magic Eraser Extra Power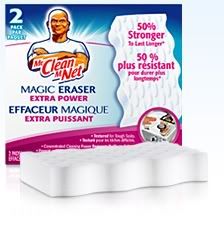 Mr. Clean Magic Erasers are my saviours! Seriously, these things clean up things that won't be cleaned up by anything else. I've used them to clean up crayon off the walls, the grout in my shower and on my floors, on my shower door, around the taps of my kitchen sink and many other places.
Cascade All-in-1 ActionPacs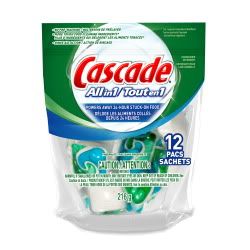 Don't stress about the clean-up, it's easy with Cascade All-in-1 ActionPacs for the diswasher because it breaks down, dissolves, and rinses away tough food particles without the need to pre-wash. What I liked best about the ActionPacs is that they don't come individually wrapped! The wrapper dissolves in the dishwasher–brilliant!
Swiffer Wet Jet


The Wet Jet solution is designed to penetrate layers of dirt, absorb dirt and grime into the WetJet pad. This product is made for convenience and convenient it is. I do find that the pole is not as sturdy as I would like. When I put a lot of pressure on it to use my "elbow grease", I feel like I might break it, but it works. My floors get clean (in between using my steam mop that I love) and it is quick to use.
Febreze Air Effects in Cinnamon Sugar & Home scent


I'm not a huge "home scent" type gal, but truthfully I really quite enjoy this one! It is just light enough and I love the mix of vanilla and cinnamon. It works to add a slight holiday scent to the house when we want it.