I've reviewed Mama Mio products in the past twice!
I was fortunate enough to receive two more samples for review: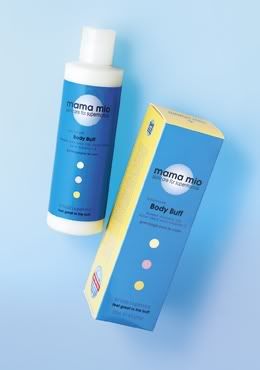 Mama Mio Body Buff
I have used this product before and I do like it. It's gentle exfoliating beads really do leave your skin feeling clean and refreshed. I also like the light scent of this product. The fact that all Mama Mio products are Paraben Free, Petrolatum Free, Sodium Laureth and Sodium Laurel Sulphate Free, Xenoestrogen and Phtalates Free, Colourant and Synthetic Fragrance Free also makes me feel better about what I am putting on my skin.

Mama Mio Get Waisted
This product is made with nine ingredients designed to help eliminate puffiness, tighten your stomach, discourage fat deposits and – most importantly – maximise lipolysis. Lipolysis is the way your body breaks down the fat stored in fat cells; giving you slim fat cells and a slimmer silhouette. Get Waisted's ingredients are well proven in lab tests to dramatically increase the destruction of fat.
I have been using this product for a couple of weeks now and although I do love this cream, I haven't noticed a difference yet. The tingle effect for about 15 minutes afterward is incredible. It really is! I love it. The bottle says to use it every day for 30 days, so I will continue to have my fingers crossed for some noticeable difference in my disgusting stomach! I have tried creams in the past (more for my legs) and have never found they work, I'm really hoping that this one does something for me! I'll keep you posted for sure. I do have to say that even if this cream doesn't work for me, it still feels GREAT on my skin and I just love how it feels.