Home Made Simple is a neat website with ideas for decorating, cooking, cleaning etc. You should definitely check it out!
Recently, I received a basket of Protor and Gamble products for review. In the basket was Febreeze Noticables, Swiffer Wet Jet, Mr. Clean Disinfecting Wipes with Febreze Freshness, Dawn Plus with Power Scrubbers, Swiffer Dust and Shine and Mr. Clean Magic Eraser Extra Power.
Febreze NOTICEables

These scented oil warmers plug into your outlet for approximately 30 days giving an invigorating scent to a large space. We have a small house and after plugging this product in for an hour or so, almost the whole house smelled beautiful. Admittedly, I'm not huge on overpowering scents, so it was a bit strong for my liking, but it certainly did the job and the scent was lovely! These NOTICEables are made to eliminate odors from the air at the same time as providing a fresh scent. I like the fact that there are two scents in the compartment that are alternated all day, providing a unique scent throughout the day. It also has a low and high setting for smaller and larger spaces.
Swiffer Wet Jet


Previous to using the Swiffer Wet Jet, we were using a Swiffer Sweeper using wet cloths. It did the job well except when there was a larger, more stubborn stain and then even a little more "elbow grease" didn't seem to do the job, it was back down on the good ole hands and knees with a scrubber. No longer with the Swiffer Wet Jet! That extra squirt of liquid in combination with a textured pad certainly did the job! The only complaint I had was that I never seemed to be able to figure out how far the spray was going to go and so our baseboards got the occasional unexpected spray that I ended up having to wipe down. The Swiffer Wet Jet is made for almost any floor type and there are a variety of cleaning solutions to use with it. The mop itself is very user friendly and I really liked the scrubbing strip to use on a stubborn stains. The velcro used to secure the swiffer pad was extremely user friendly and didn't loosen during the toughest of uses, unlike our regular Swiffer Wet mop that I have to re-adjust after a few sweeps.
Mr. Clean Disinfecting Wipes with Febreze Freshness


I've tried going the natural route when it comes to wiping our toilets and counters, but I have to admit that there is nothing like really KNOWING that the germs have been wiped off. I like using pre-moistened wipes for this type of cleaning due to the fact that there are no particles floating around in the air after spraying a solution on to be wiped down. These wipes were moistened just right and certainly did the job with a nice scent that wasn't too overpowering in my mind! The wipes themselves were slightly smaller in size than I would prefer, but they did the job.
Dawn Plus with Power Scrubbers


I loved this product! The scent was yummy and the scrubbers along with the powerful soap cleaned the dishes perfectly. My favourite part is the lid on the bottle, of all things, when you close it after use, it prevents the yucky gunk build up that usually happens on dish washing soap bottles!
Swiffer Dust and Shine


I HATE dusting, but using this product made it a bit more "fun" for me. I LOVE the scent of this and it worked well on everything except for my kitchen cupboards where it left a funny blotchy film, as does every other product that I've tried to clean them with. The dispenser sprays evenly in a nice mist so there isn't a huge blob of cleaner to wipe away.
Mr. Clean Magic Eraser Extra Power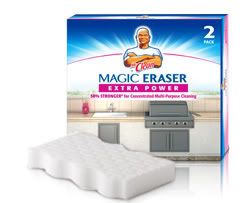 I've relied on magic erasers to clean many stubborn things around my house. They work when nothing else seems to. This particular kind did do the job well and they are shaped in a way that makes them much easier to hold! One of my favourite things to clean with these is our glass shower door that seems to accumulate a stubborn build up. I simply wipe with one swipe and the door comes clean!
———————————————————————————-
As an aside, Febreze has partnered with Canadian House & Home to produce a set of tips for freshening the home. You can see those tips here and enter a contest to win a trip to Toronto and a home decor shopping spree. The contest ends on April 30, 2009.