Finally, a non-toxic nail polish that is safe for kids (and adults alike). Piggy Paint is a nail polish that is non-toxic, water-based formula that is hypoallergenic and has a durable finish. It is free of formaldehyde, toluene, phthalates, biphenyl A, ethyl acetate and acetone.
It comes in a variety of colours and dries quickly.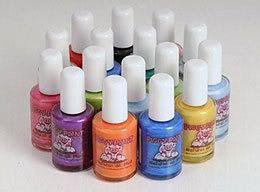 The Mom who created this product makes three great suggestions on her website for how nail polish can actually be educational. It can allow for fine motor practice if you are willing to let your child paint their own nails (or yours if you're super brave), it can help with learning the colours and with making colour patterns.
The Piggy Paint™ Nail Polish Remover is definitely an excellent choice as a non-toxic remover. Although I cannot say it is odorless, it certainly isn't offensive, but the fact that it is non-toxic, biodegradable, contains no acetone, is hypoallergenic and is made from natural ingredients is a super plus in my books. It worked really well at removing my nail polish. The remover is also made with aloe vera and vitamin E in order to protect your precious little ones' nails and cuticles.