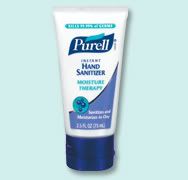 A little while back, I was sent a full size pump of Purell Instant Hand Sanitizer Moisture Therapy. I was VERY skeptical at first. In the past, I had tried many moisturizer based hand sanitizer products and didn't care for the way they felt on my hands. There was always this "feeling" left on my hands after using this type of product.
I have to say that this didn't happen with Purell. Instead, it disappeared almost as quickly as regular Purell Handsanitizer Gel. And, on top of that, it even left my hands feeling silky! Imagine that.
I keep a pump of Purell in my car. It gets used quite often by the whole family!