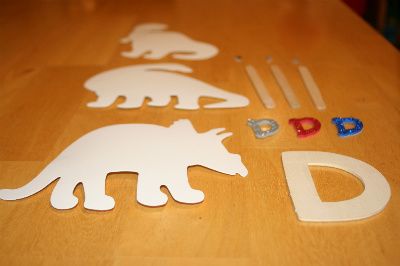 How to Make Dinosaur Stick Puppets
Materials:
cardstock paper
dinosaur print out or a black marker to draw one and a letter "D" printout
white glue
tape
scissors
popsicle sticks
Decorating materials like googly eyes, stickers, markers, construction paper or tissue paper
Steps:
Print out a dinosaur and a letter "D" onto a piece of white cardstock (thick white paper). We got our dinosaurs from the Dollar Store in the craft section, all cut out for us!
Provide your child with a variety of decorating materials (as mentioned above) and have them decorate their dinosaur and letter "D".
When the dinosaur and Letter "D" has dried, tape the popsicle stick to the back to create a Dinosaur and "D" Stick Puppet.
Educational Tips:
Make three of the same dinosaur but in three different sizes. You can have your child order them from smallest to biggest and from biggest to smallest. You could also number them 1,2,3.
Write the dinosaur's name on the back of the puppet.
Educational Moments:
letter recognition
letter sounds
creativity
colour recognition
counting
fine motor skills
The Kindergarten teacher in me would like to suggest some excellent Books and chants, songs and poems to read before or after making this craft!
Relevant Books:
Dinosaur Roar By Paul and Henrietta Stickland
How Do Dinosaurs Say Goodnight? by Jane Yolen
Chants, Songs & Poems
---
Check out our Canadian Online Shopping Directory and Multi-Testing Mommy's Current Giveaways

---