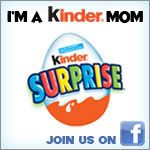 My kids are both unique in their own ways! They each have their own, special qualities and talents that make them unique. It seems like as they grow, we learn more and more things that make them their own unique, special selves!
My daughter is an amazing dancer! I have absolutely NO clue where she gets the talent from, it definitely isn't from me or hubby! And my son is an amazing runner! I have no clue where he gets his energy from, but I keep telling him that if we could bottle it up, we would be millionaires!
Kinder Canada is celebrating uniqueness with the Launch of Kinder® Surprise® Pink!
These are some of my favourite toys!
IT'S CONTEST TIME!
Why:
To celebrate the launch of
Kinder® Surprise® Pink
!
When:
May 29 to June 19, 2013
Where:
Kinder Canada Facebook Page
Prizes:
THREE $250 VISA gift cards
What makes your child unique?
---
Check out our Canadian Online Shopping Directory and Multi-Testing Mommy's Current Giveaways

---
I'm part of the KINDER® Mom program and I receive special perks as part of my affiliation with this group. The opinions on this blog are my own.