For those of you out there who like to make greener, healthier choices, you should definitely look into the Healthy Shopper!
The Healthy Shopper™ coupon book is the #1 coupon book for natural and organic products in Canada.
GIFT ALERT:
If you are on a budget this holiday and someone in your household enjoys shopping and getting deals, you could slip a copy of the coupon book into their stocking! It's free for you and provides great savings for them! You can't go wrong.
Are organic and natural products typically more costly to buy? Absolutely! This is why Randy Boyer and Andrea Donsky have selected products to encourage Canadians to make healthier choices and have created a FREE coupon book to help them purchase these products at cheaper prices.
To view a list of stores and pick up your FREE copy of The Healthy Shopper, click Find The Book.

You can also register on the Healthy Shopper Website to become a free member. Doing this provides you access to exclusive coupons (good only in Canada) for natural and organic products. Members receive a monthly e-Newsletter filled with valuable natural and organic information, recipes, tips & special offers.
For the fall, they have selected products from the salad dressings and sauces category because these products often contain high amounts of sodium and preservatives. They have also highlighted the only 100% organic feminine hygiene brand because they really want women to know about this safe, organic alternative for their bodies. Their last recommended items this fall are a selection of natural cleaning products that are safe for the environment and our health.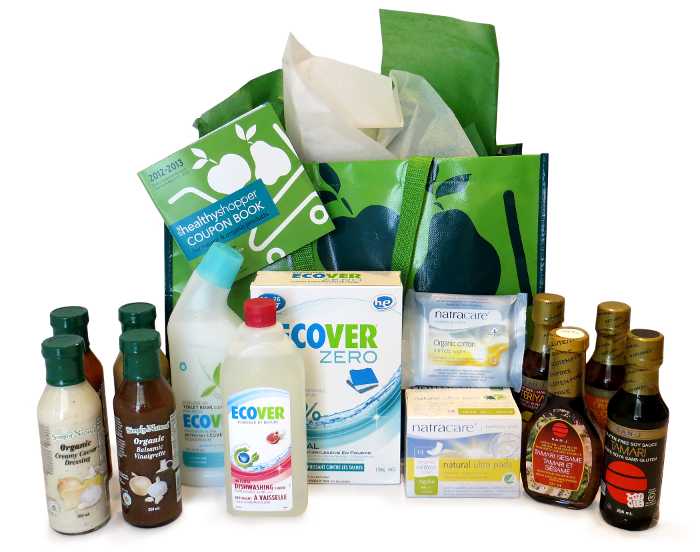 Simply Natural Organics
makes some yummy salad dressings! Our favourite that we have sampled so far is the Caesar dressing. Yummy!
Check out our yummy salad choices we had this week:
San-J
makes many
Gluten Free
Sauce choices for the family! We are looking forward to trying out their Orange Sauce!
Natra Care Feminine Products are made from 100% organic cotton and are made with totally chlorine-free and plastic free biodegradable materials.
ECOVER is a brand I was not familiar with before. Their products are made from natural, sustainable plant-based ingredients. Our first experience with this brand is their Toilet Cleaner. We have found that not only does it clean our toilet bowl nicely, but it also makes the bathroom smelling beautifully fresh and clean!
We also received a copy of Randy and Andrea's book, "Unjunk Your Junk Food" that is all about searching for healthier alternatives to your favourite junk food. What an educational and easy read!
---
Pin It
Check out Multi-Testing Mommy's Current Giveaways
---
Multi-Testing Mommy was provided with promotional materials free of charge, by the manufacturer or a representing PR agency, in the hopes that it would be mentioned on this blog. Opinions expressed belong to Multi-Testing Mommy and are NOT influenced in any way. See MTM's Disclosure for more details.