Who doesn't love Rice Krispie Treats? I know everyone in our house sure does.
When we received a fun box of goodies to create Halloween Themed Krispie Treats, we were super excited!

Rice Krispie Treats Are Easy To Make
All you need is
Kelloggs Rice Krispie Cereal
, marshmallows, butter and vanilla (optional). For extra Halloween fun, add in some icing and/or some candy and you are good to go!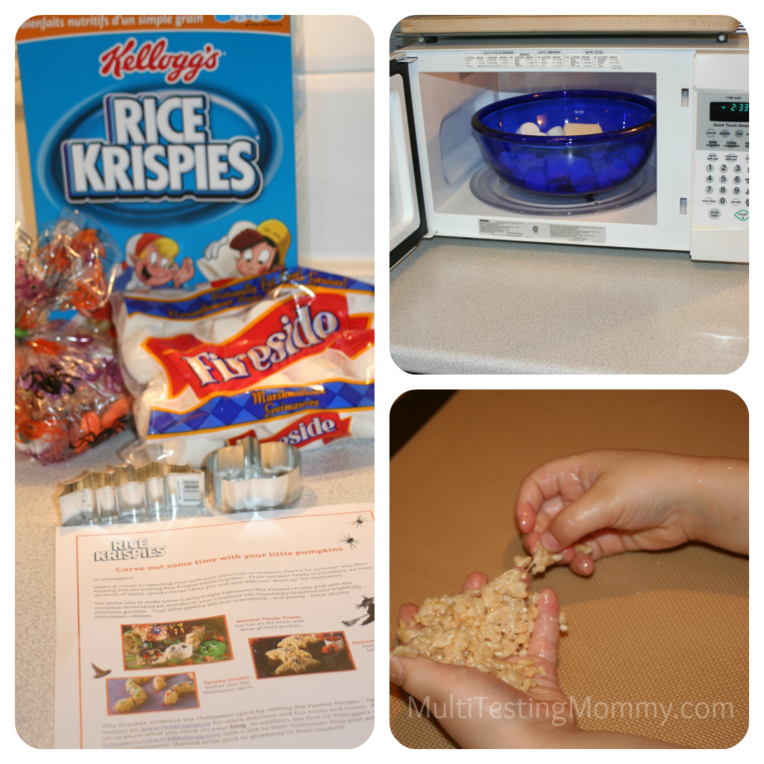 For the official recipe, go
here
. Check out this page for
Special Occasion Rice Krispie Treats
.
Halloween Fun with Kelloggs
We had so much ooey-gooey fun making our Rice Krispie treats! And let me tell you, it was messy! Mommy didn't put enough oil on the kids' hands first time around. Their hands ended up getting covered in treats and they got an added bonus of eating the first bunch that they grabbed.
After washing our hands and greasing up REALLY well, the kids were able to roll their own shapes and decorate. They enjoyed making their own creative Halloween creations.
I made a flat container of my own Rice Krispie Squares that I used a bat and pumpkin cookie cutter on to create some fun Halloween shaped treats.

Rice Krispie treats are a yummy treat to send to school for Halloween parties and are a fun treat to simply enjoy at your own home!
---
Pin It
Check out Multi-Testing Mommy's Current Giveaways

---
Multi-Testing Mommy is a member of the Kelloggers Network. As part of this membership, we receive samples and products for testing and review purposes. Opinions expressed belong to Multi-Testing Mommy and are NOT influenced in any way. See MTM's Disclosure for more details.