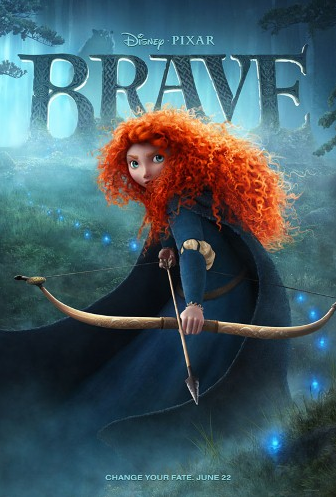 Plot:
Set in Scotland in a rugged and mythical time, "Brave" features Merida, an aspiring archer and impetuous daughter of royalty. Merida makes a reckless choice that unleashes unintended peril and forces her to spring into action to set things right. Written by Walt Disney Pictures
Here is one of my favourite quotes from the movie:
Princess Merida: If you had a chance to change your fate, would you?
To me, this is exactly what the movie was based around.
I had the opportunity to attend the Advanced Screening of this movie a few weeks ago in Toronto. What a fabulous evening we had! Katherine Sarafian and Mark Andrews were there to start off the show and to answer questions afterwards! What a fascinating experience!
One thing that I took away from listening to Mark Andrews speak was that when he makes a movie, he doesn't market it to a specific group of people (e.g. children), he simply makes a good, stand alone movie. Just like adult movies, there will be some people who don't like them (due to sensitivities or subject matter) and there will be many who love them for those exact same reasons.
This movie has been Rated PG for some scary action and rude humor, I felt it was important for parents of younger or sensitive children to know this. For me, I will definitely be owning this movie when it comes out on blu-ray, but I won't be taking my children to see it in the theatres as they are both rather sensitive to scary scenes.
Having said that, I truly believe that this is such an inspirational and motivating movie! I can't wait for my daughter to be old enough to watch it with me. Merida (voiced by Kelly Macdonald), the main character is a very strong willed girl who sends a strong message to young movie watchers alike! She has an "untamed, wild spirit" that is inspiring to see in a young, female character, not like the typical "Disney Princesses".
Three words that come to mind after watching this movie are: humour, fear and bravery.
The story of Brave truly captures the essence of Scotland with bright and vivid textural images, accents and scenes.
This movie is a must see!
Here is a fun trailer to watch:

Feel free to follow Brave on Facebook.
---
Check out Multi-Testing Mommy's Current Giveaways

---
Multi-Testing Mommy saw an Advanced Screening of this movie. Opinions expressed belong to Multi-Testing Mommy and are NOT influenced in any way. See MTM's Disclosure for more details.