Thanks to Multi-Testing Mommy for letting me guest post today!
Omiyage is an online shop specializing in cute, clever and crafty goods from Japan. We stock cute stationery, traditional paper, fun stamps and stickers, paper balloons and lots more! But our best-selling product has to be washi tape.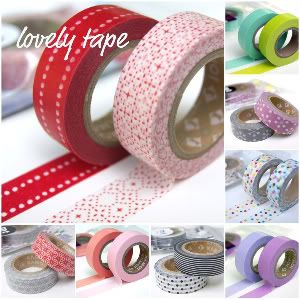 Have you heard of washi tape? Well, I think you're going to like it! Washi tape is sometimes called Japanese masking tape. Made of high quality rice paper in a variety of gorgeous colours and patterns, this tape is a delight to use. Easy to tear, easy to write on, easy to reposition; Japanese masking tape is a wonderful addition to your artistic and crafty endeavours!
Have I piqued your interest? Perhaps you're wondering what to do with this fancy tape? Well, that's the great thing about washi tape – it really is a multi-tasker. I use it for wrapping gifts, making shipping envelopes prettier, and here and there around the house. Visit the Japanese Masking Tape section on our blog and you'll find lots of washi tape inspiration – like organizational ideas, postcard books, and card making.
What would you make with washi tape?
Omiyage (Oh-me-awe-gay) is Japanese for souvenir. Based in Canada, Omiyage.ca is carefully curated to offer you simply charming Japanese products. Even better? We offer $5.00 Flat Rate Shipping in Canada. Even better than that?
We'd love to offer Multi-Testing Mommy's readers 20% off our products.
Use code MTM20 during checkout to save.
Promo valid until June 15th.
May not be combined with any other offers.
Connect with Omiyage on Twitter, Facebook or join us on Omiyage Blogs for product news, crafty projects and lots of beautiful inspiration!
---