My PumpEase™ hands-free pumping supports came to me just in time for pumping with my recent addition to my family.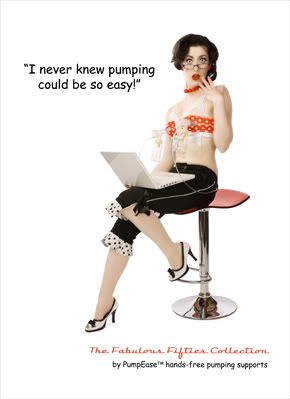 The PumpEase™ is a hands-free pumping support for Moms who don't want to be tied down while pumping their breast milk.
I really am happy with my PumpEase because it helps relieve the pressure holding a pump puts on my hands and wrists. I have problems with carpal tunnel which causes pain and numbness in my wrists and hands which gets worse when I am holding them in one position for an extended period of time. Being able to pump my breast milk hands free has really encouraged me to pump more than I would if I didn't have the hands free option available to me.
I like the fact that the PumpEase is guaranteed to work with all pumps on the market and it fits like a bra with adjustable sizes!
The PumpEase is a great thing to have, especially when you have more than one child who may need your assistance while you are partaking in pumping that can be very time consuming.
What a great invention! You can tell it was invented by a breastfeeding Mom!