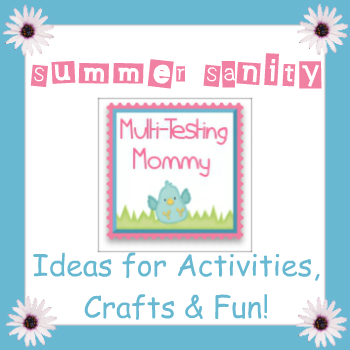 This post is a part of
Summer Sanity
, a series of posts for parents to gain ideas and inspiration for how to keep their children happy, active, educated and having fun during the long summer months.
---
Summer is not over yet! We still have a few beautiful and potentially hot days ahead of us! One of my kids' favourite activities to play outside is to blow bubbles. The thing is, this can become a very frustrating activity for my 3.5 year old as he just doesn't have the patience or the control to blow them effectively. It ends up being Mommy bubble play instead!
I got an amazing idea from The Chocolate Muffin Tree called Bubble Snacks. It is the most brilliant bubble idea I've ever come across!
This allows children to play with bubbles independently and have SO much fun!
Here is what you need:
a pair of scissors
and old sock
an empty small water bottle
water
dish soap
Directions:
Cut off the bottom of the water bottle.
Pull the sock over top of the end of the bottle (you can use a rubber band to secure the sock if needed).
Dip the sock end into a bucket/bowl of water/dish soap liquid.
Blow into the water bottle!
Have fun!
Note: I can't say how much dish soap is needed, I fill up a baby bath tub filled with water and add a couple of squirts of dish soap.
The hardest part of this activity for us was to take our mouth off of the bottle when taking a breath! The kids were wanting to blow so many bubbles and were so excited that occasionally they would breath in – oops!
If you are wanting to be more traditional and blow bubbles with wands, I found a great site that has a list of home made bubble blowing solutions! We call bubble solution, "Bubble Juice"!
Do you have any bubble blowing tips for us?!