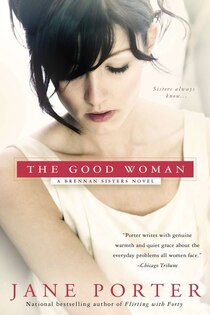 From the moment I received The Good Woman from Pearson Publishing and read the back cover, I was intrigued. The quintessential oldest child of a large Irish Catholic family, Meg Brennan is responsible, respectable and dependable. Very much the "good woman" she is hard-working, dedicated to her family, and a faithful wife. Taxiing her kids to and from activities, cooking meals and working a full time job, Meg always does what is expected.
What more could a forty-ish woman with a successful husband, talented children, and a fulfilling career in the wine industry want out of life? Intimacy and excitement for starters. Meg's relationship with her husband has become routine and boring. She is lonely and longs for his touch and closeness but sadly her efforts go unnoticed.
When the opportunity to travel to London for a conference arises, things change for Meg. Although there was little build up and "tension" between Meg and her handsome boss, Chad, things change drastically once away from the mundane routine of home. I appreciated the author leaving more "graphic" details to the imagination while portraying their intimacy more realistically unlike another trilogy I recently read – bravo Jane Porter!
Meg's shame, humiliation and disappointment in herself about her affair are conveyed very well. I felt her pain and her sadness when she wrapped her arms around herself and cried. I empathized with her when she was at her lowest point and could feel her remorse. Her husband's reaction was realistic and believable.
In my opinion, Jane Porter's writing and the style of The Good Woman can be compared to that of
Nora Roberts
or
Debbie Macomber
. It was an easy read that I found real, relatable and relevant. The pace was consistent throughout and I did not find the story to drag at any point.
Although I wouldn't add this book to my top reads of all time, I would recommend it to my contemporaries who want something light with just a bit of fantasy and edge. The secondary storyline involving Meg's complex relationships with her family left me with just enough unanswered questions to leave me looking forward to reading the next book in the Brennan Sister's trilogy. Jane Porter's
Flirting with Forty
will also be added to my watch list as I'm staring that milestone down the nose myself.
About Guest Reviewer:
Jennifer is a married mom of two sons born 15 years apart (yes, you read that right) living in Hamilton, Ontario. A lover of cupcakes, reading good (and not-so-good) books and cooking, she also spends her days working in marketing for a well-known franchise restaurant corporation. As fairly recent transplants to Hamilton, she and her family enjoy exploring the city and taking in all it has to offer. Jennifer is also a member of the National Posts'
Gastropost weekend feature section
where you can read about her completed food "missions". You can also follow her on Twitter
@pennesthoughts
or on her blog at
A Penne for Your Thoughts
.
---
Pin It
Check out Multi-Testing Mommy's Current Giveaways

---
Multi-Testing Mommy is a Chapters/Indigo affiliate. Opinions expressed belong to the Guest who has posted on Multi-Testing Mommy and are NOT influenced in any way. See MTM's Disclosure for more details.