I recently posted about
Treehouse products
from
Nature Clean
. Today, I would like to share my experience with a few more Nature Clean products.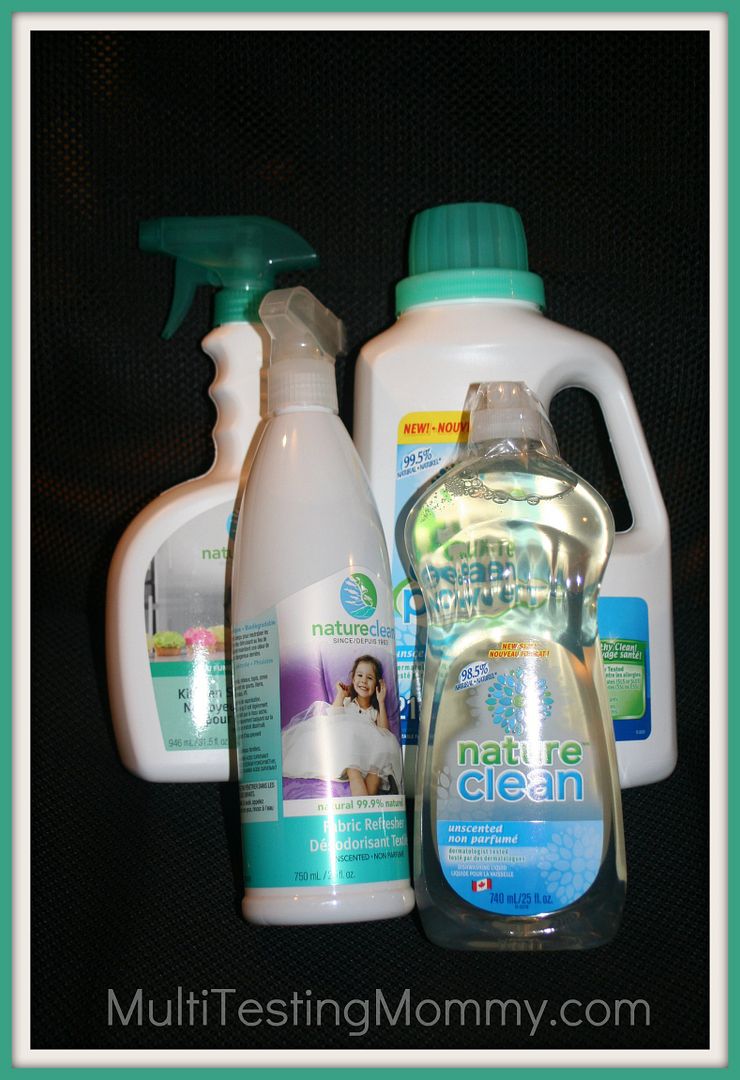 Nature Clean Kitchen Surface Cleaner
This kitchen spray has undergone some changes recently. Unfortunately I cannot compare the old version to the new one, but I will say that I have no constructive feedback! It comes in a handy trigger spray bottle that is easy to use. I like how it has the stream option as well as the spray. The cleaner is made with a botanically derived formula created from a blend of natural soaps and essential oils and is created for light to medium duty cleaning. It is made without chlorine, perfumes, dyes, phosphates, animal products or suspected carcinogens. This is the part that I love. This product can be used on a variety of surfaces and I found that it cleaned and shined each surface that I tested it on really well (tile, counter top and sink).
Nature Clean Fabric Refresher
This spray is made with 99.9% natural products. It has been designed to neutralize odours by trapping and destroying them instead of just covering them up. I found this Fabric Refresher definitely helps to keep fabrics smelling fresh and I love how I don't have to think about it leaving behind any harmful residues. I used this spray in our stinky old van to freshen up the seats as well as on our couches. It comes in an unscented and a lavender scent. I tested out the unscented and although it has the "unscented smell", (note: it is a very neutral smell, but in my opinion, no product other than water has NO smell at all) I would love to try out the Lavender scent. There is something psychological for me when I SMELL something good and clean! I really love this product and will be using it regularly to keep my house and vehicle from getting stinky!
Nature Clean Power + Unscented Laundry Soap
This new laundry soap formula contains added stain removing and deodorizing power. It is another wonderful and natural product that contains no sulphates (SLS or SLES), chlorine, optical brighteners, phosphates, phthalates, synthetic perfumes or dyes or petroleum ingredients. The unscented variety would be perfect for those people who are extremely sensitive to smell or who have allergies. This soap is very light and has been Dermatologist Tested and Allergy Tested to be non-irritating. I have done an entire week's worth of laundry (towels, whites, darks and sheets) and all of it has turned out fresh and clean! Sheets, towels and clothing are all items that come in direct contact for long periods of time with our skin. It makes me feel great knowing that I am washing my family's clothing (etc.) in a product that has no chemicals and that everything is coming out CLEAN! I will add that this soap pours nicely into the lid's measuring cup.
Nature Clean Unscented Dish Soap
I have found that this dish soap cuts through grease and cleans dishes effectively. I do have to say that I do miss a light scent that goes along with washing dishes. It does come in Mandarin & Grapefruit and Lavender & Tea Tree scents which I would love try out as they have no synthetic perfumes in them and I'm sure they smell nice. The dish soap has 98.5% natural ingredients and are derived from plants and minerals. Their dish soap is free of sulphates (SLS or SLES), phthalates, parabens, synthetic perfumes or dyes or petroleum ingredients. Although these dish soaps don't foam as much as synthetically made liquids (due to their natural foaming agents), I find they clean just as effectively!
About Nature Clean:
Nature Clean products are available at Loblaws, Zehr's, Real Canadian Superstore, Fortino's, Zellers, Babies R' Us, Metro, Sobey's, Whole Foods and select health food stores.
All Nature clean products are made without suspected carcinogens, petroleum-based chemicals or ingredients causing harmful fumes or toxic residues that could be absorbed through the lungs or skin.
Nature Clean is a 100% Canadian, third generation, family run company.
They promise to provide:
Full disclosure on all packaging
Safer formulas for you, your family and our environment
Ingredients that have been reviewed against European Standards set by the International Agency for Research on Cancer
More information can be found at
www.naturecleanlivin.com
. You can also follow Nature Clean on
Twitter
and
Facebook
.
---
Pin It
Check out Multi-Testing Mommy's Current Giveaways

---
Multi-Testing Mommy was provided with promotional materials free of charge, by the manufacturer or a representing PR agency, in the hopes that it would be mentioned on this blog. Opinions expressed belong to Multi-Testing Mommy and are NOT influenced in any way. See MTM's Disclosure for more details.