Modular Construction Toys
has arrived in Canada at participating Toys R Us stores.
Modular Construction Toys
are unique in that the building parts can be stacked vertically without limit. These toys "enable kids to build ever more complex structures, strengthening their abstract thinking, spatial reasoning and general understanding of engineering", says CEO Vitali Minin.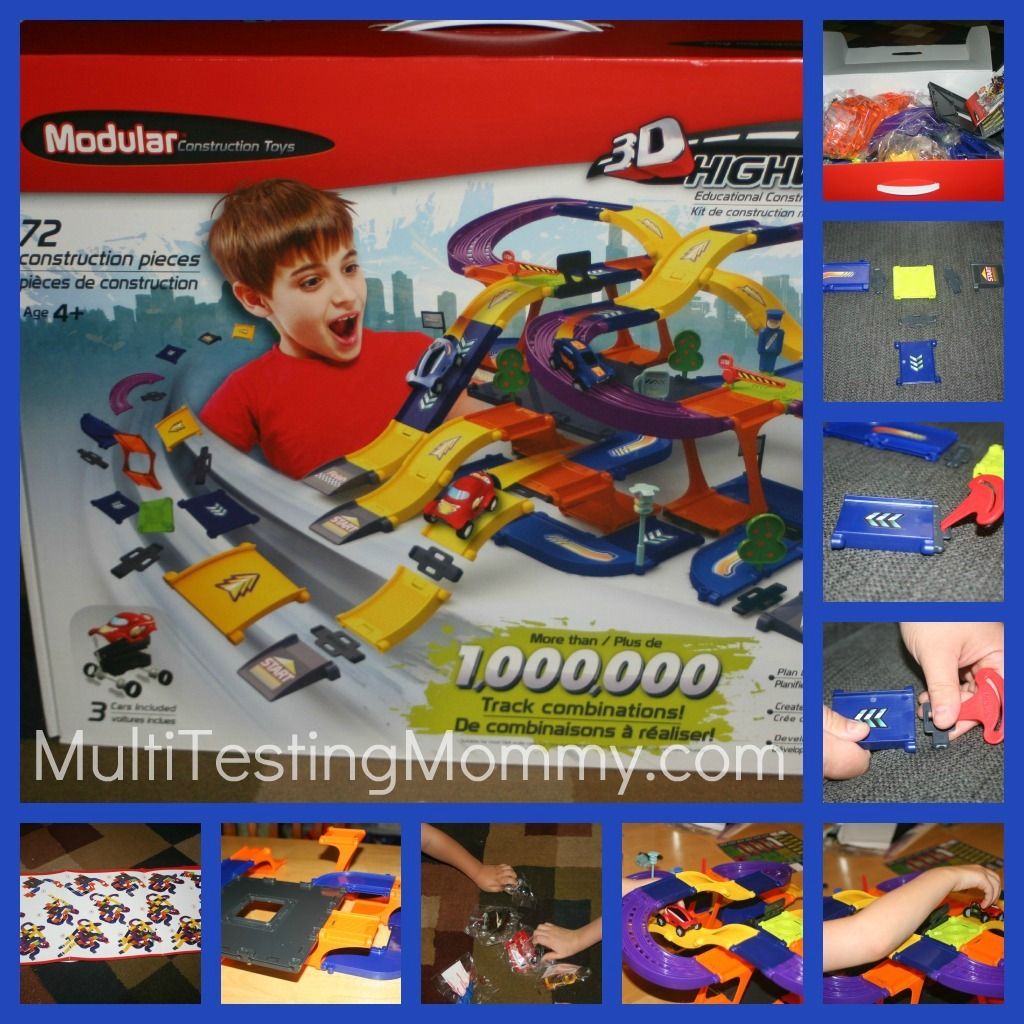 These kits allow children to develop their 3D perception and allows them to use their imagination and creativity while playing.
Check out Modular Construction Toys in action here:
As seen in the above video, the pieces of this building toy click together easily and the "extraction tool" provided in the kit makes it super easy for little hands to take apart the pieces.
We received the
3D Highway Construction Kit
to test out. Our family has enjoyed this kit!
My husband ended up building the kit as we found the instructions to be very difficult to follow, which would have left our 3.5 year old and 7 year old very frustrated! Once built (the process took approximately 45 minutes start to finish), the children had a blast putting the cars (that they built) on the track, using their imaginations and playing together happily (for at least a half hour).
I was surprised to find that not every part had a sticker which caused some fights between the children. Each child wanted a police officer with a face, but only one of them came with a sticker (for the face). I wish companies would just put the stickers on toys instead of leaving it to the parents. I have a hard time putting the stickers on with precision so I would much rather pay a few extra dollars and have the company put them on for me!
The lack of full structural stability had me concerned as the children were playing, but after an hour of play, the unit stayed together well. After the hour mark, things started to fall apart, however. This was partly due to the lack of stability and part due to the children reaching their patience limit. There was one section that had to be lifted up slightly in order for a car to pass through, but even after doing that countless times, the unit stayed together. The "wonkiness" of the unit bothered me a bit, but it didn't phase the children.
My 3.5 year old son enjoyed playing so much with this toy that the next morning after we built it, he asked me to build it for him again so that he could continue playing. Unfortunately, he had left one of his cars out on the floor and I stepped on it, breaking one of the axles. But even being one car down, he still enjoyed playing quite a bit.
I love how colourful this set is and the fun extras (like trees and policemen) allow for extra imaginative play. The fact that you can purchase additional cars for the set is an added bonus. We did end up using some of our other mini cars as well, which happen to fit just perfectly.
Modular Construction toys come in a variety of themes including castles and race tracks, people and cars.
IT'S GIVEAWAY TIME!
Prize: 3D Road Builder Kit
Giveaway Open to: Canadian Residents Only
Giveaway Closes: August 31, 2012

a Rafflecopter giveaway
Feel free to like Modular Toys on Facebook.
---
Pin It
Check out Multi-Testing Mommy's Current Giveaways

---
Multi-Testing Mommy was provided with promotional materials free of charge, by the manufacturer or a representing PR agency, in the hopes that it would be mentioned on this blog. Opinions expressed belong to Multi-Testing Mommy and are NOT influenced in any way. See MTM's Disclosure for more details.