The
Yogurty's
experience is
FUN
,
UNIQUE
and
TASTY
! My kids and I had a blast creating our own "unique" masterpieces. The reason why I say unique in quotations is because my son wanted exactly what my daughter put on hers so they ended up making identical creations, which was so cute!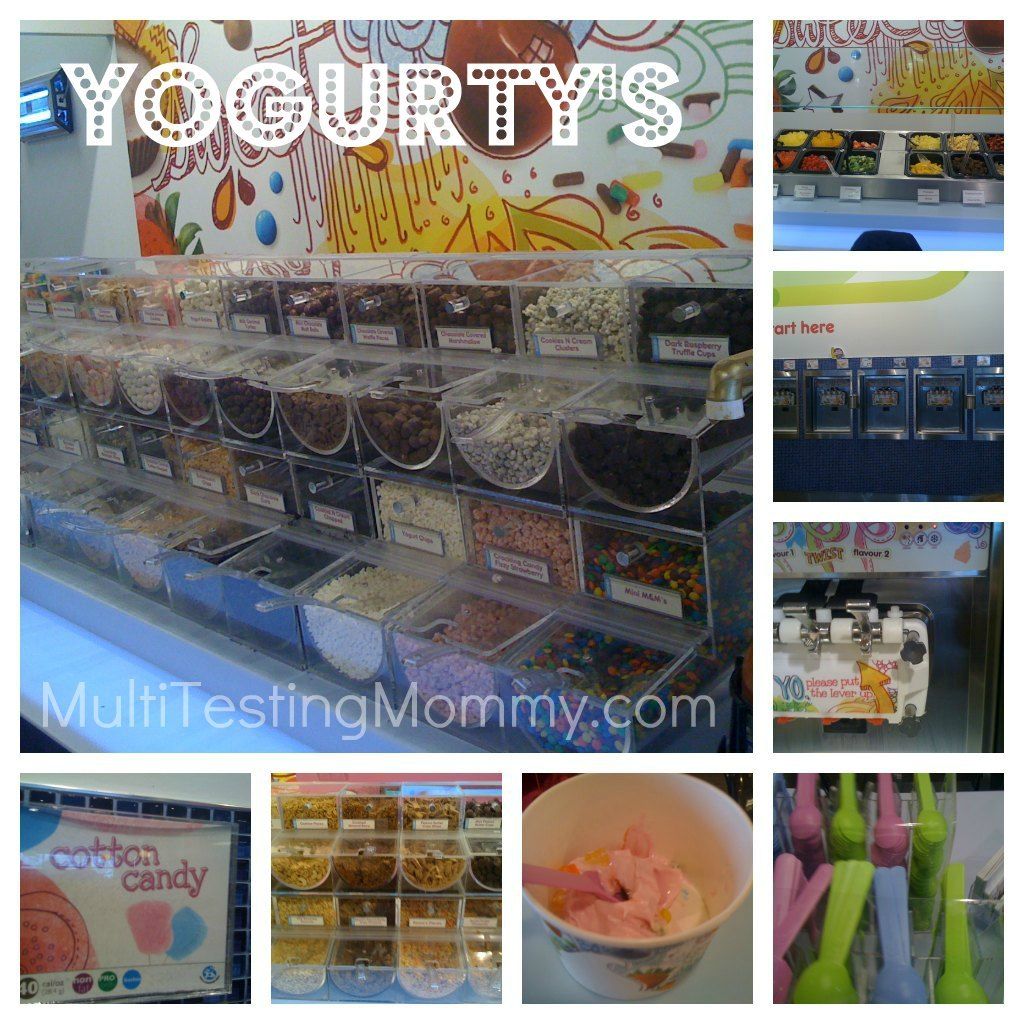 Information About Yogurty's Frozen Yogurt:
"Yogurty's frozen yogurt is a natural source of protein, calcium, and contains probiotics (live and active yogurt cultures) to help support a healthy digestive system and immunity). Yogurty's frozen yogurt has the richness and creaminess of ice cream, without the fat and fewer calories."
Information taken directly from the Yogurty's website.
The yogurt choices include no-fat and low-fat options. There are currently approximately 65 different yogurt toppings available when you create your own
Froyo Masterpiece
. I was also happy to hear that the fruit choices are made fresh every day to ensure maximum freshness and safety.
When walking into Yogurty's, the first thing I noticed was the wall at the back with
self serve
frozen yogurt stations. There were quite a few delicious flavours of yogurt to choose from. I can only imagine what it would feel like to be a kid and to walk into Yogurty's, being allowed to choose from so many different flavours of frozen yogurt, toppings (including fruit, candy, nuts and sauces) and even a specially coloured spoon.
The way the experience works is you grab a "one size fits all" tub, pour whatever combination of frozen yogurt in and cover it with as many different toppings as you would like. At the end, they weigh your creation and then you are free to eat and to enjoy your treat.
I did have to put a number of how many different treats I would let my children choose, otherwise I figured they would want some of everything, which would be too much. Thankfully, there were no arguments or negotiations! I think they were just thankful to have such a fun experience and a yummy treat. They each got what I would call a "kid sized" portion and the cost only came to $3.65 (for both) which I felt was very reasonable!
I have to say that although the kids did top their creations with candy, I did feel better about giving them frozen yogurt as it is a healthier treat choice than alternative frozen products.
The facility was very clean and I look forward to heading to
Yogurty's
another day with my whole family to enjoy and after dinner treat this summer.
Yogurty's
also has a rewards program that gives you free points towards money to spend at Yogurty's. For every $1 that you spend, you will receive 100 points.
About Yogurty's:
Canadian-based Yogurty's is the largest self-serve frozen yogurt group of stores in Ontario.
You can follow
Yogurtys
on
Twitter
and
Facebook
.
---
Pin It
Check out Multi-Testing Mommy's Current Giveaways

---
Multi-Testing Mommy is a Yogurtys Amabassador and was provided with promotional materials free of charge, by the manufacturer or a representing PR agency, in the hopes that it would be mentioned on this blog. Opinions expressed belong to Multi-Testing Mommy and are NOT influenced in any way. See MTM's Disclosure for more details.