In 1987, at the Alliston Potato Festival, a new kettle cooked potato chip was introduced to Canada.
I remember when I first had
Miss Vickie's
chips because my Aunt served them to us and I fell in love with them immediately! My Aunt often served us more unique foods than we were used to so at first, I didn't realize these chips were something that we could have. My Mom didn't often buy potato chips, but Miss Vickie's soon became the treat of choice when she did! I never looked at another potato chip the same. I loved Miss Vickie's Original Kettle Cooked Chips and I always will.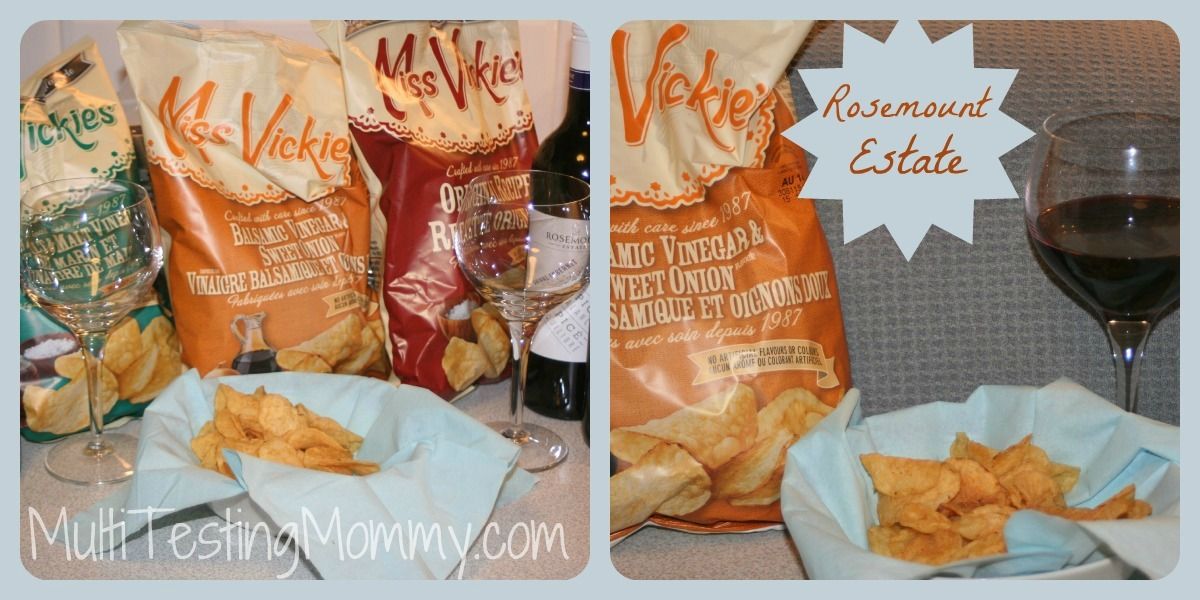 Miss Vickie's Chips have no trans fat, no MSG and no artificial colours or flavours. I feel good about serving them to my family as a treat.
In celebration of Miss Vickie's 25th Anniversary, Andrew Floor, Global Brand Director, and the team at Rosemount Estate, created a series of official Miss Vickie's and Rosemount Estate 'wine and chip' pairings to awaken palates from coast-to-coast with new taste and flavour experiences that might not have been expected. These pairings include:
MISS VICKIE'S ORIGINAL RECIPE POTATO CHIPS + ROSEMOUNT ESTATE SHIRAZ-CABERNET
Sophistication without pretense
The crunch of Miss Vickie's Original Recipe potato chips forms an ideal backdrop for the spicy fruit richness of Shiraz and unmistakable blackcurrant flavours of Cabernet. An ideal balance of salt seasoning melds seamlessly with integrated oak flavours in the wine creating the ultimate, irresistible snack.
MISS VICKIE'S SEA SALT & MALT VINEGAR POTATO CHIPS + ROSEMOUNT ESTATE PINOT GRIGIO
A classic combination
Miss Vickie's Sea Salt & Malt Vinegar potato chips' distinctive tangy taste truly shows off the tropical fruit and pear flavours in this Pinot Grigio. Always a crowd pleaser, this wine has great texture across the palate which stands up well to the savoury flavours in this expression of a much-loved classic flavoured chip.
MISS VICKIE'S BALSAMIC VINEGAR & SWEET ONION POTATO CHIPS + ROSEMOUNT ESTATE SHIRAZ
Down-right delicious
The popular Rosemount Diamond Shiraz finds its ultimate match here. The complex taste of Miss Vickie's Balsamic Vinegar & Sweet Onion potato chips, a balance of sweet and sour, perfectly complements the wine's vibrant cassis flavours while the sweet onion brings out enticing hints of licorice and spice. Look for a smooth, seamless integration of all components supported by silky tannins which carry the flavours forward in a lingering finish.
My memory has now been refreshed as to why I loved (and continue to love) Miss Vickie's chips! They are full of extra crunch and the flavour is delicious! I remember in high school, one of my favourite treats (a bit too often, I will add) were Miss Vickie's Malt Vinegar chips. That and mint chocolate bars were my guilty pleasures when I hit a convenience store or bought something from the school cafeteria. I love that unique Malt Vinegar taste!
I was sent three flavours of Miss Vickie's chips to sample and sample I did! You don't have to twist my rubber arm at all to try out Miss Vickie's amazing flavours! I sampled
SEA SALT & MALT VINEGAR
,
BALSAMIC VINEGAR & SWEET ONION
and
ORIGINAL RECIPE
along with three delicious wines from
Rosemount Estate
.
I don't indulge in wine too often, but I was quickly remembered why I do live it so! What a fun treat: wine and chips!
My favourite combination was the
MISS VICKIE'S BALSAMIC VINEGAR & SWEET ONION POTATO CHIPS + ROSEMOUNT ESTATE SHIRAZ
. Yum! A bit of sweet and salty taste in the crunchy kettle chips mixed with the bold flavour of the Shiraz was an excellent combination!
If you are having a bbq this summer or are simply entertaining, I highly recommend you test out these amazing combinations!
Feel free to follow Miss Vickie's on
and to learn more about
Rosemount Estate
, please visit
www.rosemountestate.com
.
---
Pin It
Check out Multi-Testing Mommy's Current Giveaways

---
Multi-Testing Mommy was provided with promotional materials free of charge, by the manufacturer or a representing PR agency, in the hopes that it would be mentioned on this blog. Opinions expressed belong to Multi-Testing Mommy and are NOT influenced in any way. See MTM's Disclosure for more details.