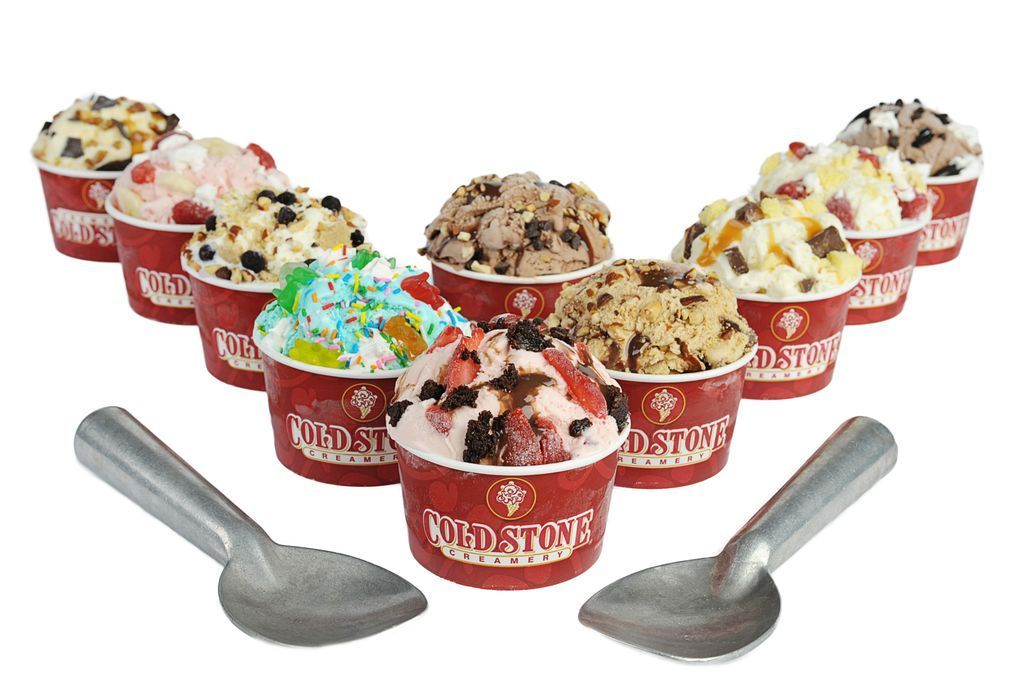 I'm loving the fact that there is a
National Ice Cream Day
coming up on Sunday, July 15th! I'm all over that! An excuse to celebrate ice cream?! Hook.me.up!
Cold Stone Creamery
is introducing
10 Provincial Signature Creations
, representing each Canadian province. The delicious Creations will be available at all 130 Cold Stone Creamery locations and combine the most popular mix-ins in each respective province with Cold Stone Creamery's premium ice cream.
You can find Cold Stone Creamery's in participating Tim Horton's restaurants! Click
here
to find one near you.
Here's the scoop on Cold Stone Creamery's Provincial Signature Creations from East to West:
Newfoundland "Cod"ton Candy Dandy
- Loaded with sprinkles and gummy bears and topped with a dollop of whipped topping in a bright blue cotton candy ice cream base, this cold concoction is as colourful as a good old-fashioned kitchen party on a St. John's Saturday night.
Nova Scotia Blueberry "Scone'er"
- Sweet Cream ice cream loaded with blueberries the colour of the North Atlantic, with graham cracker pie crust and almonds like the rocky coast line that Nova Scotians call home.
PEI Rocky Road to "Heaven-lea"
- Chock full of crunchy almonds, chocolate chips, and smothered in fudge sauce, this chocolate ice cream creation is as rocky as the tiny island's red sandstone cliffs.
New Brunswick Ploye Perfection
- Pieces of yellow cake mixed into Cake Batter ice cream and decked out with whipped topping and strawberries, this take on a traditional Acadian pancake is anything but flat.
Quebec La Poutine Gourmand
- A sweet take on Quebecois cuisine, this creamy creation features French Vanilla ice cream mixed with pecans, chocolate shavings all smothered in caramel sauce.
Ontario's Berry Best
- Inspired by the strawberry fields of southwestern Ontario, this creation is loaded with brownies, Ontario strawberries and fudge sauce mixed into strawberry ice cream.
Manitoba Red River Flare
- A taste of fruity goodness with strawberries, bananas and whipped topping on top of delicious strawberry ice cream. This cold creation's soft texture is as rich as Manitoba valleys and as plush as the humid air.
Saskatchewan Wheat King Coronation
- Golden yellow cake chunks mixed into Cake Batter ice cream, topped with pieces of SKOR® bar and swirled with caramel sauce, to represent the fertile terrain and golden yellow wheat fields of Canada's breadbasket.
Alberta Black Gold
- Tim Hortons Double Double Coffee ice cream mixed with dark gooey fudge to capture the fast paced, hardworking oilmen of Canada's cowboy province, mixed with a mountainous terrain layer of graham cracker pie crust and almonds.
B.C. Rocky Mountain Landslide
- Whipped topping on top of chocolate ice cream to signify the snowy peaks of the Rockies; mix in Oreo® cookie pieces and chocolate chips to capture the craggy cliffs of Canada's West.
Yummmmy! I can't wait to try some out! Maybe this Sunday :)
---
Check out Multi-Testing Mommy's Current Giveaways

---
Multi-Testing Mommy was provided with promotional materials free of charge, by the manufacturer or a representing PR agency, in the hopes that it would be mentioned on this blog. Opinions expressed belong to Multi-Testing Mommy and are NOT influenced in any way. See MTM's Disclosure for more details.