This post is written as part of a journey inspired by the Heart and Stroke Foundation's My Healthy Weight Action Plan, an online tool geared towards helping you live a healthier life. Feel free to get caught up on previous posts: Week 1, Week 2, Week 3, Week 4, Week 5, Week 6, Week 7, Week 8, Week 9, Week 10, Week 11, Week 12, Week 13, Week 14
---
Here are the stats to show my progress in my "Get Healthy Challenge":
| Start Weight: 190 pounds | Starting BMI: 28.9 |
| --- | --- |
| End of Week 1: 185 pounds | End of Week 1 BMI: 28.1 |
| End of Week 4: 179 pounds | End of Week 4 BMI: 27.2 |
| End of Week 8: 175 pounds | End of Week 8 BMI: 26.6 |
| End of Week 11: 175 pounds | End of Week 11 BMI: 26.6 |
| End of Week 13: 180 pounds | End of Week 13 BMI: 27.4 |
| End of Week 14: 175 pounds | End of Week 14 BMI: 26.6 |
My goal is to reach a normal BMI which would be 24.9 (the top of what is considered a "normal" BMI) at 164 pounds and from there, I plan to reassess.
---
Have you ever paid attention to the Nutrition Labels on the sides of food before you purchase them at the grocery store? I have recently been paying more attention to these labels as they are jam packed full of important information.
There are two ways to read the label:
Look at the grams of items such as calories, fat, sugar, fibre, protein etc.
Look at the % Daily value of various nutrients.
Recently, I have been introduced to the % Daily Value at an online Webinar that I attended thanks to
Did You Know Canada
. There is a great place to read up on this on the
Healthy Canadians
website.
There, it is explained that 5% is a little and 15% is a lot.
If you are looking at something like
FAT
, less than 5% would be considered good and more than 15% is considered bad.
If you are looking at something like
FIBRE
then it is the opposite, less than 5% is considered not great and more than 15% is considered good.
You can use the
% Daily Value
to compare different products in order to make a good choice for you and your family when selecting food on the shelves at the grocery store. You can also use the % Daily Value when you are in search for foods with a high source of Fibre of a low source of Fat etc.
As I pour my morning coffee and I add my Almond Milk, I read the label: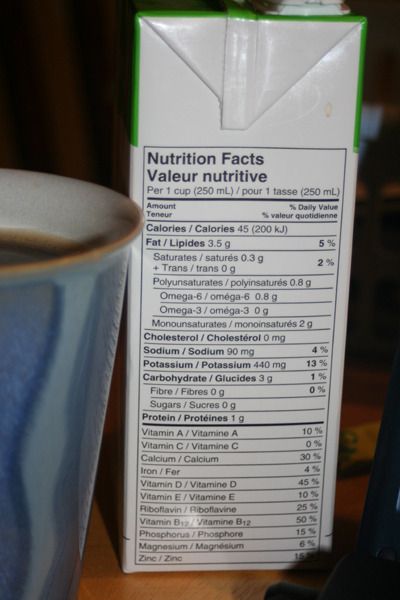 I am happy to see that the Fat is at 5%, the Saturated Fat is at 2%, the Sodium is at 4% and unfortunately the Fibre is at 0%, but that is to be expected considering it is "milk".
Protein and Sugar are two ingredients that I tend to watch as well, but they do not have a % Daily Value so I must look at the grams in that circumstance.
As described on the
Healthy Canadians
website, Nutrients that you want less of are the Fat, Saturated Fat, Trans Fat and Sodium and Nutrients that you might want more of are Fibre, Calcium (which my almond milk has 30%!), Iron, Calcium, Vitamin A and Vitamin C.
If you want to learn more about how to read the Nutrition Facts found on packaged food at the grocery store, I highly recommend you check out this
Using the Nutrition Facts table: % Daily Value (Fact Sheet)
! It breaks down exactly how to read a label and how to make good food choices accordingly.
Watch for another post talking more about the % Daily Value along with a giveaway for some coupons from companies that support the % Daily Value campaign!
Since the beginning of my
Getting Healthy Together
Challenge, I have started to pay more attention to the Nutrition Facts on the foods that I am choosing to put into my body. I am also trying to pay attention to the servings sizes that I put on my plate. Of course, what I am eating plays an important role as well so many choices that I make don't have Nutrition Facts on the side of the package, because I am trying to eat my fair share of fruits and vegetables (less of the fruits and more of the vegetables).
By using the
Online Tracking Tool
available
FREE
by the
Heart and Stroke Foundation
, I am able to easily track (by hand or online) the foods that I eat, the times that I eat and the breakdown of how items from each category I consume in a meal or day. The
My Healthy Weight Action Plan Tool
has helped to motivate me and guide me to becoming a healthier individual.
Last week, I shared my
set back
with you and this week, I am proud to say that I have gotten back on track. This road to healthy living is a long and challenging one, but I have committed myself to it and I am in it for the long haul! I understand that there will be highs and lows, challenges and successes, but the end result will be feeling and living well!
---
Here are some Blog Hops if you are interested in checking them out:
Some of my friends who are also trying to be healthier and are blogging about it are:
Ok, your turn. Tell me what one of your "staying healthy" challenges was this week!
---
Pin It
Check out Multi-Testing Mommy's Current Giveaways
---
Opinions expressed belong to Multi-Testing Mommy and are NOT influenced in any way. See MTM's Disclosure for more details.