Upper Canada Soap Presents.....The Awesome Canadian Woman:

"Since 1969, Upper Canada Soap has celebrated women and Canadian heritage," Stephen Flatt, Upper Canada Soap President.
The
Upper Canada Soap Company
is currently featuring their
Naturally Signature Golden Maple Sugar Collection
. I happen to be a HUGE fan of Maple Sugar - the taste and the smell!
I received a beautiful gift basket filled with products from the Maple Sugar Collection including: GOLDEN MAPLE SUGAR BUBBLE BATH, HAND & BODY LOTION, HAND & BODY WASH, HYDRATING SHOWER GEL, WHIPPED HAND REPAIR BALM, MOISTURIZING BATH SOAP and NOURISHING LIP BALM.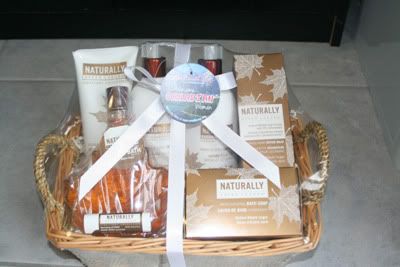 My daughter was spending some quality time with me when our basket of goodies arrived. We immediately opened it up with excitement and tried out both the hand & body lotion and the hand repair balm. We also both agreed that as amazing as the balm is, it is a night time only product because it really did grease up our hands, but were our hands ever silky smooth and smelling yummy 10 minutes later! I love the lotion for every day use, it also smelled so yummy.
We found that the only product that TRULY smells like REAL maple sugar is the lip balm. It slides on beautifully and smells like pure maple sugar, yum!
The other products all smell beautiful and I absolutely love them, but if you are thinking that they smell like pure maple sugar, you might be a bit disappointed. Other than the lip balm, they might have a small hint of maple sugar, but they remind me more of a vanilla scent, another one of my favourites!
The shower gel is very difficult to squeeze out, but it sure it a treat for the body once you get it lathered up on a fluffy loofah. I really liked the hand and body wash because it pumps out so easily, lathers nicely and smells sooooo....yummy!
I really love the fact that the
Naturally Signature Collection
is 97% natural. All Upper Canada Soap products are free of harmful chemicals, parabens, SLS, mineral oil and phthalates. Because of this, not only can I enjoy these wonderful skin care products, but I also feel good about letting the kids using them too!
Would you like an opportunity to win the Naturally Signature Golden Maple Sugar Soap and Lotion Collection that is featured in the above video? If so, read on....
a Rafflecopter giveaway
---
Pin It
Check out Multi-Testing Mommy's Giveaways
---
Toy Clearance Sale at chapters.indigo.ca!
---
Multi-Testing Mommy was provided with promotional materials free of charge, by the manufacturer or a representing PR agency, in the hopes that it would be mentioned on this blog. Opinions expressed belong to Multi-Testing Mommy and are NOT influenced in any way. See MTM's Disclosure for more details.