Entertaining is a huge part of the Holidays for many families. We used to host a huge Holiday Open House at our house before we had children, however, since having kids, we have only done it once as it is much more difficult to pull off and we don't have as much room. For us, the Holidays is about spending time with family and friends, but not everyone all at once!
One of my favourite parts about entertaining is all of the fun appetizers. Sensations by Compliments found only at Sobeys has a large variety of options for entertaining.
As part of an afternoon out together, my six year old daughter and I went on a mini shopping spree at Sobeys. We were on a mission to check out all of their Holiday Treats and to select a few to try out ourselves. We even got some exercise thanks to my daughter, as she suggested we park across the street from the Sobeys plaza so that we could walk and get be "good to our bodies". Ironically, we did this as we also sipped on our hot drinks that we had picked up along the way. She felt like such a grown up walking through Sobeys with a hot drink in her hands (don't worry, it had cooled off plenty before I allowed her to walk through a store with it). She made a comment about how she always sees adults walking through the grocery store drinking their coffee. It is funny what children notice.
We both noticed how beautifully Sobeys was decorated on the outside for the holidays. This put us in the festive mood right away.
When we finally got inside, we were somewhat overwhelmed (in a good way) with the large selection of festive appetizers, heat and serve meals, desserts and seasonal confectionery favourites.
We choose Puff Pastry Sausage Rolls and Swedish Meatballs for the appetizers and Tartlette Au Citron and Mini Profiteroles for the sweet treats.
Some other tempting options were Sensations by Compliments Goat Brie, Thai Golden Purses, Sensations by Compliments Pacific Pink Salmon Pappardelle and Prosciutto & Genoa Salami Pizza.
On the way out the door, my daughter asked me if I still enjoyed reading magazines. When I answered that I did, she quickly picked up a copy of the holiday issue of Inspired magazine so that we could read together when we got home. The magazine is filled with wonderful holiday ideas and inspirations including recipes, products and more. Some of the recipes include Cumin-Spiced Pork Skewers with Apricot Mustard Sauce, Sesame-Soya Glazed Wild Black Cod and Baked Mini Potato Galettes.
We came home and prepared a fun "Appies for Dinner" meal complete with dessert.
The kids LOVED serving themselves "family style" and they adored the selection in front of them.
Of course, the one bowl that received the least amount of attention was the veggie bowl.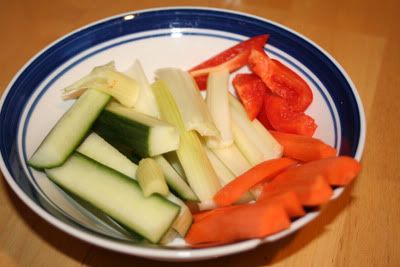 The Sausage Puffs were yummy. They cooked up beautifully on my Pampered Chef Stoneware cookie sheet!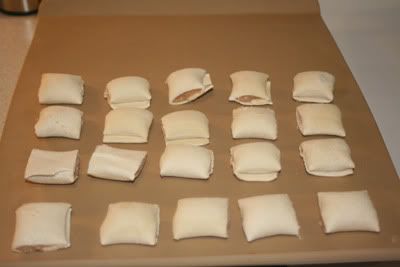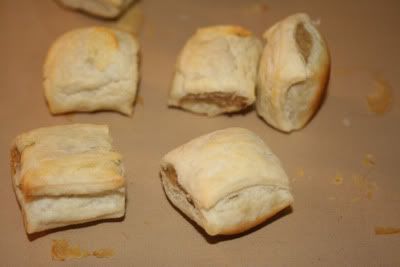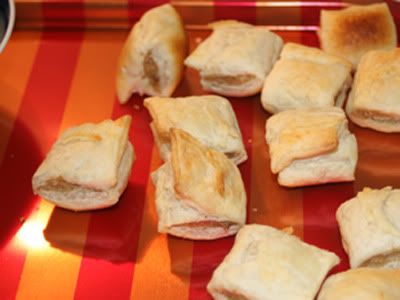 By far, the favourite appetizer were the Swedish Meatballs! Ironically enough, neither child has enjoyed meatballs lately, but they both gobbled these bit sized appetizers up in no time.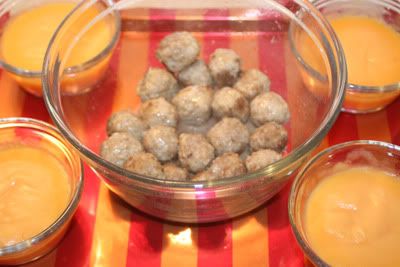 When it came time for dessert, we were rather full, but that didn't stop any of us from indulging a little. The Mini Profiteroles were a perfect "bite sized" treat for the kids and the Tartelette Au Citron was enjoyed by all, although the kids didn't enjoy the lemon peel bits.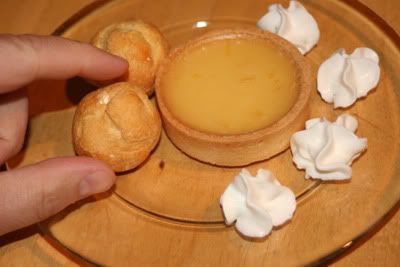 You can tell my hubby was extra eager to dive into dessert!
After this fun meal together as a family, I thought to myself that this would make a perfect family tradition to start by having "Appies for Dinner" on Christmas Eve every year. We all LOVE appetizers and often the wee ones in the family are so excited, they don't tend to eat as much on Christmas Eve. We just might be heading back to Sobeys to pick up a few more tasty treats before December 24th.
Sobeys is offering chances to win a $2,000 Sobeys gift card plus $5,000 in instant win prizes at www.sobeys.com and Facebook. I encourage you to head on over for a chance to win! Sobeys is also on Twitter – be sure to follow them for recipe ideas and more!
As well, I am offering one lucky reader a $30 Sobeys Gift Card to go on a Holiday Sobeys adventure for your family.
---
Check out Multi-Testing Mommy's Giveaways
Toy Clearance Sale at chapters.indigo.ca. Shop now to prepare for the holidays!
---
The above product was provided free of cost to Multi-Testing Mommy by the manufacturer or a representing PR agency. Opinions expressed belong to Multi-Testing Mommy and are NOT influenced in any way. Some posts on Multi-Testing Mommy have been sponsored, see MTM's Disclosure for more details.
Use Code: STMMMS65716